Cheap Flights to Madinah Airport
Flights to Madinah
Madinah or Medina or Madina is the second-most important city in Islam and a major pilgrimage destination. Medina is located in the Hejaz region of western Saudi Arabia. The first mosque of Islam is also located in Madinah and is known as Masjid al-Quba, the Quba Mosque. In Medinah you can see and buy beautiful paintings and sculptures. To witness the epic history & culture, plan your trip to Madinah immediately. Book your flights to Madinah with Rehlat and avail amazing offers on your flight bookings. One way or round trip, book Madinah flights at lowest cost on Rehlat.
Things to Do & Popular Places in Madinah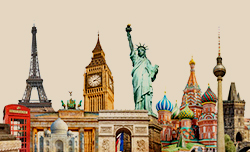 Don't Miss These Magnificent Attractions
Beautiful mosques and palaces, old streets with many buildings and craft shops, picturesque coastline and colorful markets are the main attractions of Madinah. Thousands of tourists from around the world come every year to visit and to perform holy rituals. Magnificent attractions and historical places across the city are: Masjid an-Nabi, Quba Mosque, Masjid al-Qiblatain, Mount Uhud, Madain Saleh Tombs, Grave of Hamzah, Al-Madina Museum, Madina Media Museum, and Mosque of Badr.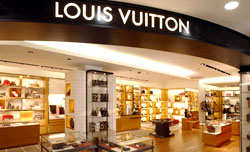 Best Shopping Malls
Located in the heart of Saudi Arabia, Madinah or Medina is one of the country's most popular shopping destinations. Medina boasts of the modern malls and ancient gathering spots. There are famous shopping malls in Madinah. They are: 4 Ladies & More, Al Noor Mall and Foursquare.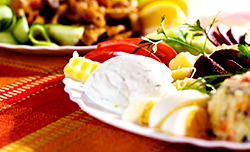 Food and Dining in Madinah
Madinah has many popular restaurants, cafes, & luxury hotels. Al Baik Restaurant, Madina Munawarra, Al Fateh Restaurant, Hardee's, House of Donuts, Castle of Sabah, Tako Hut, Steak House, Swiss House and many other restaurants are famous in the city. You can find several delicious dishes such as Ful Madammas, Dajaj Mahshy, Ha-saa Al-Gereesh, Salata Khadra and Al-Roaz Al-Zirbeyan. There's no night life enjoyment in Madinah, but witness the sight in night when several millions of pilgrims take part in the night time prayers at Prophet Mohammad Mosque every day.
Transportation in Madinah
Buses, trains and taxis are mostly used as local transport to travel within the city. You can find a number of buses travelling from Medina to Jeddah in a five hour duration costing about SR45 per person. It is easy to hire a car or a taxi to get around the city.
Madinah Airport Information
Prince Mohammad bin Abdul-Aziz International Airport or Prince Mohammad Airport is the major airport in Medina. The airport is located approximately 19 kilometers from the city, which serves several millions of people from different parts of the world.
Local Transportation To & From Madinah Airport
You can find several buses and taxies' to reach Prince Mohammad bin Abdul-Aziz International Airport. Most of the car hire companies are running taxis from centre of the city to Medina Airport with cheaper rates. It will take around 24 minutes to travel from Medina City to Prince Mohammad Bin Abdulaziz Airport.
Popular Airline Routes
Madinah Airport AddressPrince Mohammed Bin Abdulaziz International Airport,
Medina Saudi Arabia
Ph: +966 14 813 9999
Scroll