Cheap Flights to Yekaterinburg
Flights to Yekaterinburg
Book your flight to Yekaterinburg - a major and also the fourth largest city in Russia. It is also the capital and center for industries, cultural activities for Ural Federal District. This city is located on the border of Asia and Europe (Eurasian) with an approximate population of 1,349,772 inhabitants. It is having rich historical sites, monuments, parks, and architectural marvels, and many more entertainment resources. Find huge selection of cheap flights and airline tickets with Rehlat. We have excellent flight deals, last minute flights, and city break deals. Get cheap flight tickets from Koltsovo International Airport (SVX) on Rehlat now.
Things to Do & Popular Places in Yekaterinburg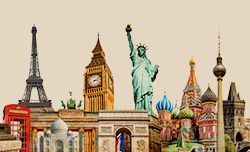 Don't Miss Yekaterinburg Attractions
Yekaterinburg offers plentiful libraries, in which V. G. Belinsky Scientific Library is the largest in the region. It is the home for many museums, theatres and popular rock bands in Russia. Visitors can spot many exemplary sculptures and old edifices with great architecture around the city. Church on the Blood, Museum of Fine Arts, QWERTY Monument, Circus, Ural State University, Ural State Technical University, Opera and Ballet Theatres, LedovyjGorodok and Shirokorechenskoye Kladbishche Cemetery are the major attractions of the city.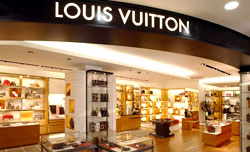 Shopping in Yekaterinburg
Yekaterinburg enjoys street markets, outdoor shopping, and upscale malls. Visitors will be delighted to shop at the "Chinese Market", which comprises numerous small stores with wide range of varieties. Vaynera Street is the right place for souvenirs, and Mega Mall is the destination for the upscale shopping. Leather products of Russia are popular for their quality and unique designs. Plentiful shops offering fine leather products can be seen everywhere in the city.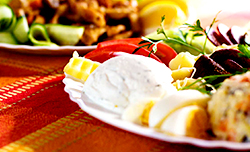 Food & Nightlife in Yekaterinburg
Ethnic culinary concentration is high in the city restaurants. There are many new cafés and restaurants that are erected in recent years, in which most of the eateries offer Russian, Japanese, and Italian food varieties. Alike other Russian Cities, Yekaterinburg enjoys vibrant nightlife with live music by local bands. Visitors will be able to find the best bars and taverns around the town easily.
Transportation in Yekaterinburg
Thanks to the wide range of Tram network in the city. It serves throughout the city and is a comfortable way to explore the city. Cars or taxis will end up with pain, as the central city traffic kills all your time and fewer parking spaces will not let you enjoy the car trip. Walking tour and metro is another option to enjoy the trip in the city. Information stands can be seen at many places in the city, which will help you to locate and reach the desired location.
Yekaterinburg Airport Information
Koltsovo International Airport (IATA: SVX, ICAO: USSS) is the fifth busiest airport in Russia, located southeast 16 kilometers away from the city center of Yekaterinburg. The airport serves around 4,290,000 passengers annually and has nonstop flights to nearly 50 cities. Yekaterinburg is the focused city for Ural Airlines, RusLine, Transaero and Aviacon Zitotrans.
Koltsovo International Airport has three terminal buildings namely terminal A, terminal B and VIP terminal. Terminal A has two levels, and handles all domestic operations and can accommodate 1000 passengers per hour. Terminal B consists of two floors and it is used by international flights, this terminal can handle 1600 passengers per hour.
Local Transportation To & From Yekaterinburg Airport
Koltsovo Express is the major transportation available to and from the city airport; it costs about 22 to 50 rubles. Travellers can also get through rental cars and taxis.
Popular Airline Routes
Yekaterinburg Airport AddressKoltsovo International Airport,
Ulitsa Bahchivandji, 1,
Yekaterinburg,
Russia
Ph: +7 800 100-03-33.
Scroll