Cheap Flights to Krasnodar
Flights to Krasnodar
Book a trip to Krasnodar, the capital city of Russian federal subject 'Krasnodar Krai'. It is located on the banks of the Kuban River for about 92 miles away from the Novorossiysk, Black Sea port.  It is the historical and economical center in southern Russia. Though the city has abject past, it is urbanized over the period of time and recorded lowest unemployment rate amongst 'Southern Federal District' cities. Plenty of historical sites, shopping streets, arts, parks and many more attractions are available in the city. Rehlat, one of the fastest growing travel companies in the Middle East offers exclusive deals and offers on Krasnodar flights, both one way and round trip.
Things to Do & Popular Places in Krasnod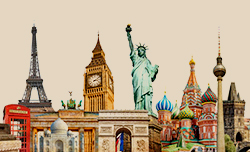 Must Visit Krasnodar Attractions
Being one of the important cities in the southern region, the city boasts numerous attractions including museums, historical sites, performing art theatres, fountains, and many more. Enjoy plenty of historical sites in Krasnaya Street, which is the major street of the city. Entertainment has no limit in the city; it has 12 popular theatres featuring dramas, puppet shows, Philharmonic Hall, and Operetta. There are ten major museums, among them Krasnodar Regional Fine Arts Museum and Krasnodar Regional Exhibit Hall are popular for its collection of arts and historical artefacts. Conversely, there are many smaller attractions such as, splash fountain, parks, arboretums, zoos, water parks, and many more.
Shopping in Krasnodar
The city's shopping is nicely blended with local, traditional, up-scale and fashioned shopping destinations. It has a notable market place called Vostochniy Rinok (Rinok ~ Bazaar), at this place visitors can buy fresh fruits, traditional clothing, accessories, local shopping needs and souvenirs as well with bargain shopping. Withal and Galaktika is the massive shopping mall with plentiful of expensive branded stores.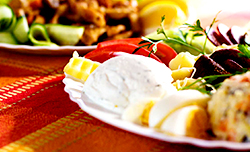 Dining & Nightlife in Krasnodar
Sushi restaurants, hookah bars, pubs, pizzerias, and fast-food chains are dotted in and around the city. Find the delicious local varieties and various customized flavours of Russian cuisines. Most of the American fast-food brands can be seen in many places of the city. Krasnaya Street is the home for best bars and taverns in the city. Find the comfy bar and spend all your night lively with tasty drinks and entertainment. The city enjoys distinct festivals and its calendar is packed with numerous events. Along with commonly celebrated religious festivals and annual days, it celebrates regional and seasonal festivals every year. Visit the city during a festival and taste the local cuisine.
Transportation in Krasnodar
Krasnodar operates many public transit services throughout the city and suburbs. Buses, mini buses, trolley buses, boats (across Kuban River), and marshrutkas are the major transit options that makes your trip comfortable. Buy a map before boarding in to any cab or hiring car. Public transit covers most of the places in the city; hence visitors may not require a taxi to get around the city.

Krasnodar Airport & Location
Krasnodar International Airport (IATA: KRR, ICAO: URKK) is the seventh largest airport of southern Russia, which is located east 12 kilometers away from the city center of Krasnodar. The airport serves passenger traffic of around 2.8 million annually. The airport is served by over 30 airlines and has nonstop flights to 30 cities. It handles 500 domestic and 200 international passenger flights per hour.
The city airport has two separate terminals for the arrivals and departures of domestic and international flights.
Local Transportation at Krasnodar Airport
The airport can be easily accessible by public trolley buses and mini buses, both will take hardly one hour to reach the airport from the train terminal. Travellers can also get through rental cars.
Popular Airline Routes
Krasnodar Airport AddressKrasnodar International Airport
St.them. Evdokia Bershanskaya,
355, Krasnodar,
Russia,
Ph: +7 800 333-19-91
Scroll