Flights to Irkutsk
Irkutsk is a city in Irkutsk Oblast in Russia. The city is a hub for science and culture. Irkutsk is the administrative center of Russian province Irkutsk Oblast. This city is considered as one amongst largest cities of Serbia. It is a home for many educational centers and universities and major branch for Russian Academy of Sciences. Plentiful sites, museums, monasteries, and many more iconic monuments are also dotted in the city. Book your flights to Irkutsk with Rehlat and experience the budget travel. Rehlat is one of the fastest-growing online travel companies offering bookings for flights and hotels.
Things to Do & Popular Places in Irkutsk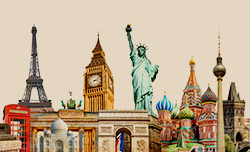 Don't Miss Irkutsk Attractions
Irkutsk has plenty of things to explore. It has numerous historic churches built in 17th and 18th centuries. They are Epiphany Cathedral (1718-46), Ascension Church (1747-51), Saviour Church (1706-13), and Our Lady of Kazan Church (1885-92). Also, there are numerous museums exhibiting historical relics and fine arts including City History Museum, Irkutsk Regional Museum, Sidorov State Mineralogical Museum, and Sukachev Art Museum. Also, you can visit estates, religious buildings, monuments and much more.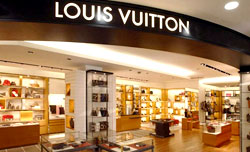 Best Shopping Malls
The city is having numerous souvenir and craft shops throughout the region. There are several local boutiques, and small shopping centres in the city offering all kind of shopping needs. Winter boots are the common item which can be found in every store at different prices. Winter boots are called as Kamusi made out f deer, elk, and other fur. Its price range starts from RUB3000. The typical souvenirs include wooden carvings, lacquer boxes, and birchwood boxes.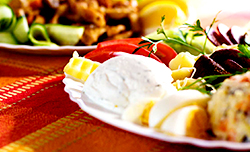 Food and Dining in Irkutsk
The restaurants of the city offer wide range of ethnic delicacies including Siberian, Buryat, Russian, European, Japanese, Chinese, and Mongolian cuisine. Omyl, Kharius, and Sig are local fishes that are served in distinct flavors and delicious tastes in almost every restaurant. Tourists must taste Buryat fast food in the middle of the town. It is cheap and tasty. There are many taverns and bars which offer great nightlife with plentiful alcohol beverages. Most of the bars and taverns run throughout the day and night.

Transportation in Irkutsk
The public transit system is a good choice to explore the city. You can choose trams, buses and minibuses (marshrutka) to travel the city. Since the city is relatively compact so, tourists can explore the city by foot. Also, you can opt for bike rentals to get in around the city. Tram tickets should be bought from driver, and the ticket will be stamped onboard. Usually, bus minibuses charges RUB12. Also, you can choose cars or taxis for travelling to nearby places and shopping.
Irkutsk Airport Information
International Airport Irkutsk (IATA: IKT, ICAO: UIII) is 8 kilometers away from the center of Irkutsk. Irkutsk international Airport has two terminals for domestic and international operations. Both the terminals have the capacity to accommodate 1450 passengers per hour. International terminal also has a VIP lounge. Medical services, baggage storage, cafes, restaurants, coffee shop, gift shop, wheelchair assistance, baggage carts, lost and found baggage office, nursing room, currency exchange, ATMs, waiting hall, restrooms and information desk are the facilities available at the Irkutsk international Airport.
Local Transportation To & From Irkutsk Airport
Passengers can choose buses, trains, shuttles, trams, and taxis to reach the airport. Buses and shuttles ply between Irkutsk International Airport and the city. Trains are often and cheap to reach the airport. The train charge may start from RUB350. Trams (tram 4 and 6) takes 30 minutes to reach the airport.
Popular Airline Routes
Irkutsk Airport AddressInternational Airport Irkutsk,
ul. Shiryamova, 13,
Irkutsk,
Irkutskaya oblast,
Russia,
664009
Ph: +7 395 226-62-77
Scroll