Cheap Flights to Constanta
Flights to Constanta
It's time to board a flight to Constanta, the charming city located on the Black Sea coast of Romania.  It has about 350000 inhabitants and is the commercial and administrative centre of the Constanta County, one of the two counties of the Dobrogea region. Constanta is the second largest city of Romania, and the most important industrial, commercial and cultural centre of the south-eastern part of Romania. Search for one way and round trip flights to Constanta on Rehlat and get the cheapest flight prices. If you are planning to visit Constanta, then visit Rehlat to avail the cash back offers and discounts.
Things to Do & Popular Places in Constanta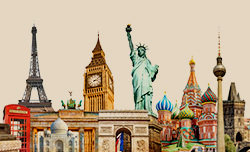 Don't Miss Constanta Attractions
Find out the rich history of Constanta and its breathtaking sightseeing places and natural wonders such as The Mosque of Constanta-Minaret, Delfinariu, Mamaia Beach, Tropaeum Traiani Monument, Folk Art Museum (Muzeul de Arta Populara), Museum of National History and Archeology, Constanta Casino, Constanta Beach and Capidava Fortress.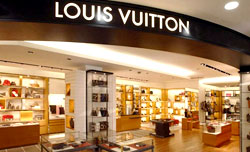 Best Shopping Malls
Guests can have the best ever shopping experience as the city boasts of a wide range of shopping centers from traditional to modern styles. The city is famous for its clothing, accessories, shoes, jewellery, stylish boutiques and fashion stores. Top shopping malls in Constanta are: VIVO! Constanta, Tomis Mall, City Park Mall of Constanta, Marvimex, and Centrul Comercial Tom.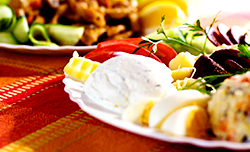 Food and Dining in Constanta
It's not easy to choose among the best restaurants in Constanta. The menu offers a wide selection of seafood and vegetable side dishes, a wine list includes popular European wine and local drinks. You shouldn't miss to taste a wide range of delicious and typical dishes including mezeluri, salata de piper, ciorba de perisoare, sarmale, mititei and frigarui.
Transportation in Constanta
Constanta offers a wide variety of vehicles like public buses, mini buses, van, taxis or trains to get around all major cities. The city is well connected to all major cities by road and railroad transport.
Constanta Airport Information
Mihail Kogalniceanu International Airport is the major international airport, serving Constanţa. It is located in south-east Romania, in the commune of Mihail Kogalniceanu, just 26 kilometers (16 mi) north-northwest of Constanta. Mihail Kogalniceanu International Airport consists of single terminal called 'passenger terminal.'
Local Transportation To & From Constanta Airport
Constanța offers several public transportation facilities such as train, cab, and bus to reach Mihail Kogalniceanu International Airport. It will take approximately 52 minutes via DN2A/E60 and A4, which is about 39.3 kilometers.

Popular Airline Routes
Constanta Airport AddressMihail Kogalniceanu International Airport,
Strada Tudor Vladimirescu 4,
Mihail Kogalniceanu 907195,
Romania
Ph:+40 241 255 100
Scroll