Cheap Flights to Bucharest
Flights to Bucharest
Board a flight to Bucharest and explore the beauty of Romanian culture and tradition with natural wonders and breathtaking sightseeing places. It is situated in the southeast of the country, lying on the banks of the Dâmbovița River and Danube River. Bucharest is the capital city of Romania with an estimated population of 2.27 million people. The currency prevailing in this city is Romanian leu (RON). Bucharest attracts more than 9 million tourists every year to enjoy the romantic holiday vacation all around the year. Find out the best deals on Rehlat and book your flight tickets to Bucharest. Hurry up and sign up now for more deals and cash back offers.

Things to Do & Popular Places in Bucharest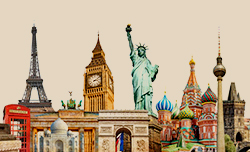 Don't Miss Bucharest Attractions
Romania welcomes guests to visit prestigious tourist attractions such as Palace of the Parliament, Dimitrie Gusti National Village Museum, Herăstrău Park, Museum of the Romanian Peasant, Grigore Antipa National Museum of Natural History, Kretzulescu Church, National Museum of Romanian History and Bucharest Botanical Garden. Bucharest offers some of the interesting historical monuments including Romanian Athenaeum, Arcul de Trimf, The Great Synagogue of Bucharest, Hala Matache and Biserica Boteanu. You shouldn't miss to walk around the downtown to discover plenty of insight into Romanian history.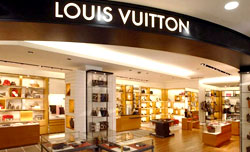 Best Shopping Malls
Explore a wide selection of shopping malls, branded outlets and enormous departments as well as new modern shopping centers. The city is most popular for local designers, fashion, fairs, handmade, artificial jewellery, and many more. If you are in Bucharest in December, don't miss the Christmas market. Located in the city center, opposite the University of Bucharest, this spot is unavoidable and brims with locals and tourists tasting hot cinnamon buns and tea. Do not dare miss the "Pălincă de Bihor", a traditional type of brandy in Bucharest Christmas market.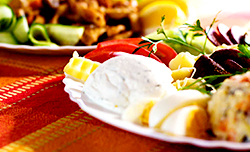 Food and Dining in Bucharest
Taste Romanian traditional cuisine including Mezeluri, Salata De Piper, Ciorba De Perisoare, Sarmale, Mititei and Frigarui. Bucharest unveils an eclectic cultural scene with lively nightlife and excellent classical concerts in pubs, bars, clubs, jazz clubs and casinos. Best restaurants in Bucharest are located in the historical town center and some of them are Caru cu Bere, City Grill Lipscani, The Artist, Osho, Casa di David and Hanu Berarilor, Siegfried, City Grill - Lipscani, Excalibur - Castelul, La mama. For some European cake and coffee, make a visit to the Cafe Flo, Chocolat, Paul and Gelato Mio, Origo, Gradina Cafe Verona, Lente & Cafea, Terasa MNAC.
Transportation in Bucharest
Bucharest is connected to all major cities in Romania. The city offers buses, trains, taxis, trolleybuses and rented cars. There plenty of private companies that are operating taxis to get around the city at a reasonable cost.
Bucharest Airport Information
Henri Coanda International Airport is one of the busiest airports in Romania, located in Otopeni 16.5 km (10.3 mi) north from Bucharest's city centre. The airport is a major hub for TAROM, which serves both domestic and international flights to all across Europe. It will serve several million domestic and international passengers throughout the year.
Local Transportation To & From Bucharest Airport
Bucharest provides a large number of public buses, airport shuttles, taxis with safe and reliable taxi transfers to the centre of the city. It will take around 33 minutes via DN1/E60, which is about 19.0 kilometers. You can also find another route via DN1/E60 and E81, which is about 36 min (21.6 km).
Popular Airline Routes
Bucharest Airport AddressCalea Bucureştilor 224E,
Otopeni 075150,
Romania
Ph: :+40 21 204 1000
Scroll