Cheap Flights to Buraimi Airport
Flights to Buraimi
Al Buraimi is one of the most beautiful destinations in Oman which welcomes millions of travellers from all across the world. It is located in Oasis town in north-western Oman, on the border of the United Arab Emirates with an estimated population of 63,159 inhabitants. The currency used in this city is Omani Rial (OMR).
Things to Do & Popular Places in Buraimi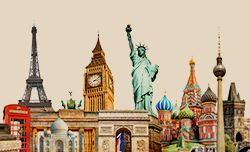 Don't Miss Buraimi Attractions
Al Buraimi is a most prominent holiday destinations for its wealth of impressive tourist attractions and notable landmarks includes Al Buraimi Park, Al Hillah Castle, Wadi Al Qahfi, Al Khandaq Castle, Wadi Kitnah pools and Wadi Kitnah pools.
Transportation within the Al Buraimi
Al Buraimi features three modes of transportation rail, road and air. It is easy and quick to find local transportation to get around the Al Buraimi and neighbourhood of the country.
Al Buraimi Airport Information
Buraimi Airport is a major airport in the city, serving Al Buraimi Governorate, which operates domestic and charter flights across the country. The airport features excellent amenities includes information desk, check-in counter, car parking, restaurants and shops. The nearest international airport is the Muscat International Airport.
Popular Airline Routes
Scroll