Cheap Flights to Amsterdam
Flights to Amsterdam
Amsterdam boasts of an incredible mixture of cultural and natural wonders. Take a flight to uncover the most inspiring history of centuries and cultural festivals of Netherlands. Immerse yourself in everything that makes Amsterdam great - its rich cultural heritage, high quality of life, dynamic economy and unique outlook. Plan your Amsterdam itinerary now and book your flight with Rehlat. Your search for Amsterdam flight at cheapest price ends here. Book your flight tickets to Amsterdam at Rehlat and save your hard earned bucks with Rehlat's deals and cash back offers.

Things to Do & Popular Places in Amsterdam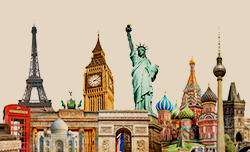 Don't Miss Amsterdam Attractions
From glorious museums to ancient churches, secret courtyards to pretty cobbled streets, and, of course, Amsterdam's world-famous canal houses, waterways, and bridges, there's an irresistible things to see and do in Amsterdam. So pack your camera, pick up a map and get ready for a beautiful adventure! One shouldn't miss the rich heritage of oldest churches and finest archaeology with art museums. The notable tourist attractions and historical monuments such as The Rijksmuseum, The Van Gogh Museum, The Old Church, The Port of Amsterdam, The Amsterdam Museum, The Museum of the Tropics, and The Botanical Gardens & the Zoo.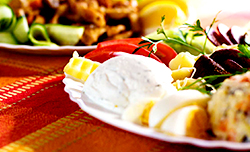 Shopping, Food, and Dining in Amsterdam
Amsterdam is filled with several shopping malls, and can be reached on foot by strolling around the city centre. Amsterdam comprises of several fashion boutiques, designer shops, antique shops and luxury outlets. Hooftstraat is well-known as the most expensive shopping street with a mixture of trendy, antique, modern and luxury malls. Don't miss to taste a wide range of Dutch dishes that include Gehaktballen, Slavink, Balkenbrij, Pannekoeken, Poffertjes and Mosselen. The city is equipped with hundreds of hotels and restaurants to serve local and international cuisines.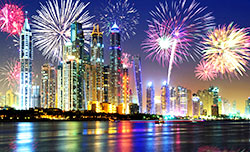 Nightlife in Amsterdam
When it comes to nightlife in Amsterdam, there are several venues, dance festivals, and club nights to suit every taste! In fact, Amsterdam is an adobe to the best nightclubs in Europe, with venues ranging from city centre party bars to hidden neighborhood gems. Moreover, as one of the world's biggest exponents of dance music, Amsterdam's thriving clubbing and nightlife scene covers all bases. The famous pubs in Amsterdam are: De School, WesterUnie, Sugarfactory, and AIR Amsterdam.
Transportation in Amsterdam
Whether you're commuting to home and work, travelling within Amsterdam is straightforward and convenient. The extensive public transport network connects the city's many districts by train, tram, metro, bus, and ferry.
Amsterdam Airport Information
Amsterdam Airport Schiphol is a major international airport, which operates domestic and international flights from serving the city of Amsterdam. The airport is a major hub for leading airlines such as Arke, Corendon Dutch Airlines, Delta Air Lines, KLM, KLM Cityhopper, Martinair Cargo, and Transavia. It is considered as the fifth busiest airport in Europe in terms of passenger traffic.
Local Transportation To & From Amsterdam Airport
Amsterdam has an extensive and well-developed transport network that includes both private and public services like buses, trains, taxis, trams, hire cars, and airport shuttles to reach the airport from the city. It will take around 23 minutes to reach the Amsterdam Schiphol Airport from the city centre, which is about 21.7 kilometres via A4 and A10 routes.
Popular Airline Routes
Amsterdam Airport AddressAmsterdam Airport Schiphol
Evert van de Beekstraat 202,
1118 CP Schiphol,
Netherlands
Ph: +31 900 0141
Scroll