Flights to Nador
A pleasure ride on the coastal line from Al-Hoceima to Nador, passing by all the red muddy cliff tops, caves and lush green mountain heights ends up with a delightful journey to all tourists. Sipping off a mint tea and gazing at the roaring waves of the turquoise blue sea, adds more fun on the lagoons of Nador. Book your flights to Nador and welcome all-new experiences to your life. Get Nador flight bookings from any destination in the world on Rehlat. Rehlat is Middle East's fastest growing online travel company offering flight booking at jaw-dropping fares.
Things to Do & Popular Places in Nador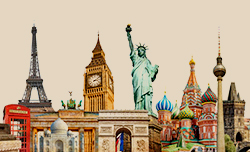 Don't Miss Bocana beach
The Nador city is situated on the north-eastern cliff of the Morocco region, on the banks of the Sebkha Bou Areq salted lagoon. The top places to visit in Nador include Laguna de la Marchica, Mar chica, Ifri beach, Charrana beach, Monte Gurugu, and Plage d'El Kallat. Get relaxed and spend your best time at Bocana beach. Also, Nador is an exciting destination for bird watchers and plant wildlife enthusiasts as you can find interesting wildlife.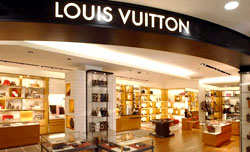 Best Shopping Malls
There is no much upscale shopping found in Nador city. Find everything from clothing to fresh fruits at Souk Oulad Mimoun, kisaria and mourkab which are located at the center of the city.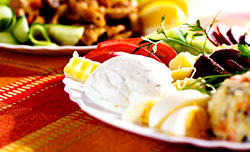 Food and Dining in Nador
Enjoy the local and traditional food at Souk Oulad Mimoun. Also, Nador city has many well-kept hotels that satisfy visitors with the best cuisine. Since Nador is coastal city, you can find variety of seafood in every corner of the city.
Transportation in Nador
Nador is well connected with external and internal networks. It serves all its visitors as well as its citizens with many bus links, train stations at all major junctions, ferries to neighboring port cities and airport shuttles. Buses and taxis are the appropriate options to travel within and outskirts of the city.
Airport Information Nador
Nador International Airport is the major airport serving Nador. The Nador International Airport (IATA: NDR, ICAO: GMMW), also called as the Arwi airport. Royal Air Maroc and Ryanair are the two major airlines operating out of the airport. The airport is located 20 km away from the city.
Local Transportation To & From Nador Airport
Car rental service is available to reach Nador International Airport. You can find taxis and buses to reach the airport.
Popular Airline Routes
Nador Airport AddressNador International Airport
Al Aaroui,
Morocco
Ph: +212 5363-61077
Scroll