Cheap Flights to Marrakech
Flights to Marrakech
Marrakech means "Land of God" and it is the third biggest city of Morocco. Snag a flight to witness the amazing snow-filled Atlas Mountains in the city. Marrakech is an enviable destination and drawing number of tourists for its magnificent places, museums, and beautiful gardens. Get your Marrakech flight booking done on Rehlat and experience the budget travel with its best deals, special fares, and discounts. Rehlat is the fastest-growing online travel company offering flight bookings as well as hotel bookings at amazing lowest fares.
Things to Do & Popular Places in Marrakech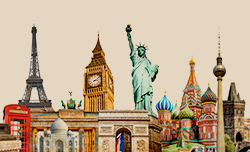 Don't Miss Palmeraie
Marrakech has innumerable attractions from intriguing landmarks, fantastic monuments, to museums. During your trip to Marrakech, you shouldn't miss visiting Palmeraie, the green lung of Marrakech. It is an oasis located outskirts of the city. A number of hotels, villas, and resorts are located near the Palmeraie. Also, you can enjoy the camel rides near the oasis. The other must-visit attractions of the city include square of Djemaa El-Fna, the souks, Tanneries, Koutoubia Mosque, Saadian Tombs, Majorelle Gardens, Dar Si Saïd Museum, The Menara gardens and much more.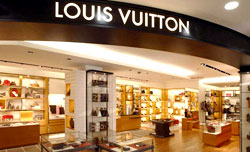 Best Shopping Malls
You can experience a great shopping at city's souks or the markets of Marrakech. Souks are located near Place Djemaa El-Fna, a historical place in Marrakech. You can find everything from spices to shoes, jellabas, kaftans, pottery, cashmere shawls to tagines and much more at bargaining fares. Sellers accept dirhams and if you run out of dirhams, you can exchange your dollars or euros at fair charges. Most of the tourists purchase argan oil which is produced only in Morocco. It is mostly used in cooking and beauty treatments.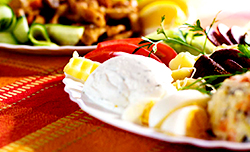 Food and Dining in Marrakech
Dining in Marrakech is a delightful experience. You can find booming restaurant scene in the city. A number of restaurants sprawled in the city ranging from stylish modern to classic serving mouth watering food with exotic spices. Tourists should miss tasting the specialties like offal, egg sandwiches, special tajines and soups. You can see a number of tent restaurants which serve international cuisine. Few restaurants serve alcohol. Marrakech has two parts the Medina and Gueliz. You can find limited places selling alcohol within Medina. Tourists can find several places to drink in Gueliz.



Transportation in Marrakech
There are many modes of transportation to explore the interiors of the city. A number of buses and petits taxis are available to travel in and around the city. Caleche is another option to explore the city. Caleche is a small-horse drawn carriage. Walking tours help tourists to explore most of the city, while carrying a tour map or travel guide is suggestible since GPS is invaluable in the city.
Marrakech Airport Information.
Marrakesh Menara Airport (IATA: RAK, ICAO: GMMX) is an international airport serving Marrakech city. The airport has two terminals designed to serve more than 4.5 million passengers per year. The airport connects Marrakech and destinations across Europe, Casablanca as well as Arab world nations. The terminals are equipped with all necessary facilities accommodating the passenger needs..
Local Transportation To & From Marrakech Airport.
A number of taxis are available at every corner of the city making a hassle-free trave. Airport shuttles are available to reach the airport. Bus no 19 leaves from Djemaa el-Fna for every 30 minutes from 6:15AM to 9:15PM to reach the airport.
Popular Airline Routes
Marrakech Airport AddressMarrakesh Menara Airport,
Marrakech 40000,
Morocco
Ph: +212 5244-47910
Scroll