Cheap Flights to Chisinau
Flights to Chisinau
Book your flight to Chisinau, the capital and the largest city of Moldova. The city is located in south-central part of the country along the Byk River. Discover the awesome beauty of Chisinau which is filled with beautiful natural wonders, classy museums and historical monuments. Take off on your flight to Chisinau with Rehlat and witness the beauty of the city. Rehlat is the fastest growing online travel company in the Middle East. Take a flight from your destination and avail the special deals and discounts only on Rehlat. Fulfill your trip to Chisinau at affordable fares and save huge for your next trip.



Things to Do & Popular Places in Chisinau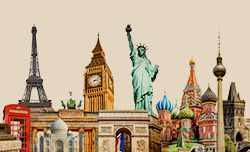 Don't Miss Ștefan cel Mare Central Park
Chisinau is the liveliest city filled with museums, hotels, and restaurants. Ștefan cel Mare Central Park is a must-visit destination in Chisinau. Covering an area of about 7 hectares, it has 50 species of trees that are aged between 130 to 180 years. The other tourist attractions include National Museum of History of Moldova, Nativity Cathedral, Chișinău Botanical Garden, Triumphal arch, National Museum of Fine Arts, Valea Morilor Park, Chișinău Water Tower, Rose Valley, National Museum of Ethnography and Natural History and much more.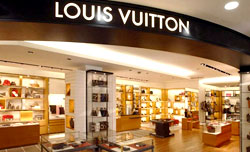 Best Shopping Malls
Chisinau offers world-class shopping centers and branded outlet stores. These offer a range of items from embroidered clothing, handicrafts to gifts. You can find a large number of shopping malls, outlets, and department stores. MallDova is the perfect store to find everything from fashionable clothes, shoes, jewelry, sports equipment, toys and many more. The other shopping malls in the city include Piata Centrala, Atrium, ArtMen Gallery, Istanbul Bazaar, Bucuria, Nirvana Rock Shop and much more.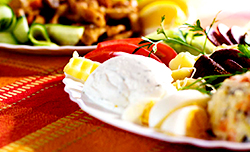 Food and Dining in Chisinau
Dining in Chisinau is a delight for every visitor. Moldovan cuisine and drinks surprise everyone. Grab a delicious bite in Chisinau's best eating places such as Tucano, Galbenus, Eli Pili, Andy's Pizza, and La Placinte. The city has middle to upper range of dining destinations to eat a variety of cuisine. You shouldn't miss tasting a variety of traditional dishes like fish pudding, Placinta, salads, Jellied Poultry, sarma, mamaliga, and ghiveci. The city offers a plenty of options to enjoy lively nightlife in clubs, lounges and bars. You can find a large number of nightclubs packed with young people.
Transportation in Chisinau
Chisinau is well connected with all modes of transport like the public, and private transport to all major cities. Tourists or locals can use a number of public transportation options including buses, trolleybuses, and jitney. You can find public transportation jitney across the city. However, trolleybuses and jitney are cheaper compared to other transportation in Chisinau. There are plenty of taxi services operating at reasonable cost. However, it is cheaper if you call taxi-office and hire rather than snagging a taxi on the street.
Chisinau Airport Information
Chisinau International Airport is the major international airport in Chisinau. The airport is a hub for Air Moldova, Wizz Air, and FlyOne. It is located 8.1 mi southeast of city centre. The airport facilitates parking facilities, VIP lounge, Senator VIP club, business lounge, conference room, "bread and salt" service, duty-free shops, car rental service, taxi service, kids' zone, Wi-Fi, Medical aid unit, and much more. Chisinau International Airport is equipped with passenger terminal. Passenger Terminal: this terminal is used for domestic and international passengers to travel all across Europe and the Middle East.
Local Transportation To & From Chisinau Airport
You can easily reach the Chisinau International Airport from the centre of city by taxi, bus, minibuses, and rental cars. It costs around 3 MDL for minibus or bus. Passengers can use the rental cars to/from the airport. A number of car hire companies are available to reach to/from the airport. The aiport is just 13 km away from the center of the Chisinau city.
Popular Airline Routes
Chisinau Airport AddressChisinau International Airport,
Bd. Dacia nr. 80/3,
Chisinau 2026,
Moldova,
Ph: +373 22 525 111
Scroll