Cheap Flights to Acapulco
Flights to Acapulco
Acapulco is one of the must go-to destinations in Mexico. Acapulco is an incredible city with plenty of activities and tourist destinations that keep any tourist busy. The city has a number of beautiful beaches backed by jungle-greenery. Acapulco is a port city, an ideal destination for tropical weddings. Its beaches are ideal to relax and rest and also incredible for water sports. Plan a trip to Acapulco and spend your splendid vacation. Rehlat offers low-cost flights to Acapulco. Rehlat is Middle East's fastest-growing online travel company offering ever low-cost flights for everyone with its exhilarating deals.
Things to Do & Popular Places in Acapulco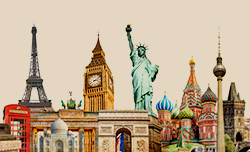 Don't Miss El Rollo Acapulco
Tourists must not miss the fun at El Rollo Acapulco. It is a water park in Acapulco city offering dolphin shows, water slides, and many water sports. Also, Fort of San Diego is a must-visit attraction of the city which illustrates a history of 500-year old city. The other tourist attractions of the city include La Quebrada, Fort of San Diego, Papagayo Park Community Center, Playa Langosta, Papagayo Adventure, Chapel of Peace, Playa Majahua, Jardín Botánico de Acapulco, Fiesta & Bonanza yachts and much more.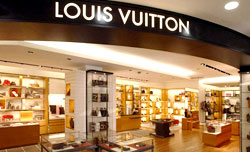 Best Shopping Malls
Shopping is a major part of the tourist experience. You can find a number of shopping malls, exclusive accessories, boutiques and much more. A variety of shops, stores near beaches, artisan markets and craft bazaars can be found throughout the city. Tourists can find their desired items at city's shopping options from air-conditioned shopping malls, countless markets, to outdoor markets. You can find unique silver collection near Taxco. Taxco is a city located near Acapulco famous for silver jewelry.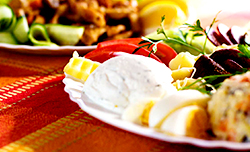 Food and Dining in Acapulco
Besides Acapulco's natural beauty, beautiful sunsets, and vibrant nightlife city is also famous for food. It has a wonderful selection of restaurants satisfying foodies from around the world. As Acapulco is a port city, it is quite famous for delicious seafood. You can find a number of restaurants offering seafood that blends style and flavor. You must not miss to taste Vuelve a la vida (Veracruzan seafood cocktail) and pescado a la talla (a famous fish dish). Probably nightlife in Acapulco is a big part of your trip in Acapulco. Acapulco's legendry nightlife attracts every tourist to spend their time in pubs and clubs.
Transportation in Acapulco
Acapulco is well connected with all the major transportation like buses, taxis, cars, private autos, and mini vans, to get around the city and other regions of the country. You can find taxis everywhere in the city. Since the taxis are unmetered, passengers are recommended to negotiate before entering into a taxi. Shared cabs are convenient and run between major destinations. Renting a car is the best option to get around the city.
Airport Information Acapulco
Acapulco International Airport (IATA: ACA, ICAO: MMAA) is a primary international airport of Acapulco, Guerrero, Mexico. The airport is located 26 kilometers from the city. Acapulco International Airport features two terminals. One terminal is used for domestic and international operations and the other is used as general aviation terminal. The passenger terminal is equipped with all essential amenities like Wi-Fi, rental cars, hotels, cafes and restaurants, ATMs, banks, shopping, car parking, information desk and much more.
Local Transportation To & From Acapulco Airport
A number of transportation options are available to reach the Acapulco Airport such as airport shuttle service, shared cabs or taxi cabs, stretched limousine and buses.  Airport shuttle service is private, safe, and reliable to reach the airport. Taking taxi is also the best option to reach airport.
Popular Airline Routes
Acapulco Airport AddressAcapulco International Airport,
Blvrd de las Naciones,
Aeropuerto,
39931 Acapulco,
Gro.,
Mexico
Ph: +52 744 435 2060
Scroll