Flights to Erbil
Erbil is located to the east of Mosul and is the capital city of Kurdistan Region. Erbil lies in between two river banks including the Greater Zab and the Lesser Zab. In early days Erbil is constantly occupied city in the world but now it has emerged as the third largest and fast growing city in Iraq. Erbil is perfect holiday destination with many attractions. Compare and choose the best Erbil flight deals that fit in your budget. Grab the exhilarating offers and make your Erbil flight bookings on Rehlat. Choose from the best selection of low-cost flights to Erbil from all around the world.
Things to Do & Popular Places in Erbil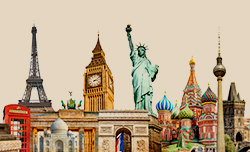 Don't Miss Erbil Attractions
Erbil has rich ancient history with quite a lot tourist attractions and sightseeing places like Erbil Citadel. It is a great example of Erbil's architecture and has given shelter for many during wars. The city preserves its heritage in museums like Textile Museum, Erbil Civilization Museum, and Syriac Heritage Museum. Ainkawa is another must watch place in Erbil where you can find many churches which are most famous in the entire Middle East. Erbil flora collection is an amazing place; Minaret Park and Shanidar Park are the popular destinations for summer.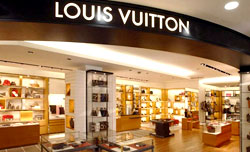 Best Shopping Malls
Erbil has good amount of shopping options and provides both modern and classical wear often displayed at its wide range of shopping malls and bazaars. The city is most famous for handmade carpets, embroidered cushions, lamps, furniture, silver jewelry, and antiques from different parts of world. Qaysari Bazaar is the oldest and largest souk in Kurdistan. Kurdish honey, hand-made Kurdish shoes, gift items and Kurdish rugs are few unique collections and must buy products. Other popular shopping areas include Family Mall, New City Mall, Majidi Mall, and Tablo Mall.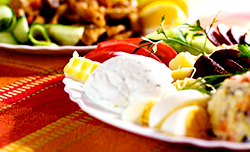 Food and Dining in Erbil
Erbil's delicious culinary serves all the tourists with lots of variety food; the whole cuisine is mainly based on chicken, lamb, bread, and rice. Black tea with sugar is a popular drink found at each and every corner of the city. Tarin Restaurant, Hawler Restaurant, Seasons Restaurant, Baydoner, T Bar Sports Lounge, and Grill are few top rated restaurants of the city. There is not much nightlife in the city; you can find some bars and night clubs at the Ainkawa suburb and in some five star hotels. There is not much nightlife in the city; you can find some bars and night clubs at Ainkawa and in some five star hotels.

Transportation in Erbil
Taxis and buses are the main mode of transportation within the city. And you can also make use of car hire service to roam around the city. You can find taxis everywhere in the city. It may charge approximately 5,000 – 10,000 Denars. Public and private buses are available and its may charge 500-1000 Dinars approximately.
Erbil Airport Information
Erbil International Airport (IATA: EBL, ICAO: ORER) is one of the main airport in Kurdistan Region of Iraq. Erbil international airport is located 7 km away from the city. Erbil International Airport has fewer facilities like the banks, tourism information office, duty-free shops, restaurants, cafes, gift shops, telecom services, currency exchange, prayer room, and first aid services.

Local Transportation To & From Erbil Airport
Passengers can choose rental cars, taxis, or private vehicle to reach the Erbil International Airport. Complimentary Airport Shuttle Bus service is available to reach the airport. The timetable of the shuttle bus may vary with season and other factors.
Popular Airline Routes
Erbil Airport AddressErbil International Airport,
Erbil 44000,
Iraq,
Ph: +964 66 281 0000
Scroll