Flights to Ahvaz
Ahvaz is a city in Khuzestan Province in South Western Iran. Ahvaz is situated on the banks of the Karoun River, which splits the city into two large districts. The western half is mostly housing with some government departments. The eastern half is both residential and Industrial. If you are planning to visit Ahvaz, then book Ahvaz flights with Rehlat and get amazing deals on your flight bookings. Hurry up and book now.
Things to Do & Popular Places in Ahvaz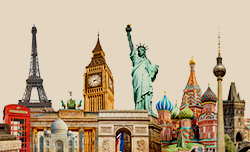 Don't Miss Ahvaz Attractions
Ahvaz has currently a prominent position among the big cities of Iran and is one of the tourist attractions of the country. It is one of the oil industry hubs in the country, and the maximum part of the city is industrialized, and tourists can hardly find any attractions or sights. A view from the oldest park in the city namely the River Side Park is an amazing experience for all the visitors. Another attraction is an 80years old White Bridge which was built on the Karoun River.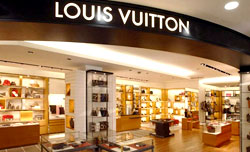 Best Shopping Malls
For many Iranians, shopping has become a near-obsessive ritual. Ahva is a great city for shopping: dry fruits, an assortment of salted nuts, saffron, Iranian sweets like Gez and Sohaan, precious stones like agates, turquoise, intricately designed silver jewellery studded with rubies and emeralds, stylish outfits, eighteen Karat gold jewellery, perfumes, religious souvenirs, trench coats, scarves, termeh, carpets and rugs are just a few of the delights on offer at the city's shopping areas.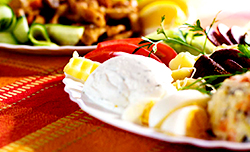 Food and Dining in Ahvaz
The restaurants in Ahvaz are famous for its authentic and delicious kebab culinary. Iran is a dry country, and the same reflects in the Ahvaz. The city is also famous for delicious juices and soft drinks. Ahvaz offers you a less International variety of food. However, you can find the fast food shops at every corner. Oxin Hotel Restaurant and River Side Restaurant are few well-known places for tourists to give a bite.
Transportation in Ahvaz
Ahvaz has many transportation options to roam within the city. Cars, buses, taxis, boats, and bikes are the major transportation options available in the city. However, buses and Taxies are the major transportation options to roam around in the city. Both are inexpensive. Buses are majorly served within the city.
Ahvaz Airport Information
Ahvaz International Airport is the major transportation option in the city. Domestic services are most frequently operated through this airport. Rarely offers International destinations like Kuwait and Istanbul. The airport is located in the Eastern part of the city
Local Transportation To & From Ahvaz Airport
Rental cars and taxis are the major means of transportation to and from the Ahvaz International Airport. You can also travel using public buses, cars, mini vans, and taxis to reach the heart of the city from Ahvaz International Airport. It will take around 25 minutes to reach the Ahvaz International Airport.
Popular Airline Routes
Ahvaz Airport AddressAhvaz Airport
Ahvaz,
Khuzestan,
Iran
Ph: +98 61 1443 4600
Scroll