Cheap Flights to Imphal Airport
Flights to Imphal
Enjoy your trip to the city of scenic landscapes and greenery, Imphal and indulge in a flight journey that keeps you comfortable. Rehlat - one of the fastest growing travel websites in the Middle East offers direct flights to Imphal at cheapest prices. Get wonderful deals on flights to Imphal for both one-way and round trip. Rehlat allows you to check Imphal cheap flights, schedule time of your flight and instant status of arrivals and departures of flights. Find best deals on Imphal flight bookings at affordable cost with Rehlat.
Things to Do & Popular Places Imphal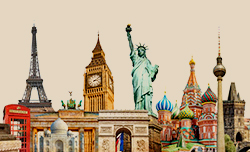 Must Visit Imphal Attractions
Imphal city is famous for its historical marvels. 'Kangla Fort' is the ancient and architectural wonder of the city. There are plenty of picturesque and architectural treasures hidden inside the fort. Conversely, there are several other historical marvels dotted around the city that includes, Hiyangthang Lairembi Temple Complex, Jama Masjid, Shree Govindajee Temple, Imphal War Cemetery, Women's Market (Ima Keithel), and ISKCON Temple.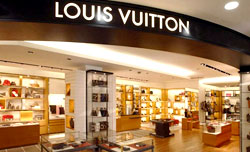 Best Shopping Malls
Imphal doesn't have big shopping mall but the vibrant local bazaars fill up for that. Don't miss to shop the Manipuri handicrafts and souvenirs. Small shops are on both side of streets which are mostly managed by tribal women. They sell beautiful hand-woven skirts, shawls, vessels, and fabrics. Want something traditional from Imphal, definitely purchase the Phanek which is the traditional dress of the Manipuri Meitei tribe. Ivory items and Manipuri dolls are also a good bargain for your home décor.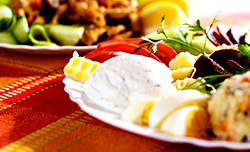 Food and Dining in Imphal
The city offers many budget and high range restaurants, and local authentic dishes are very popular in Imphal. There's a very strong Tibetan influence which can be seen in the food served here. Momos (stuffed rice balls) and Kangsoi (stew of rice and fish) is a must try if you are visiting Imphal. Eromba is a Manipuri dish which is a delicacy made of bamboo shoots. There are few bars and taverns to keep you entertained.
Transportation in Imphal
Imphal is the transportation hub in the state and is well connected to all parts of the state. Assam Government runs bus services within the city and also to the other places of the state. You can hire a car or a taxi to wander across the city.
Imphal Airport Information
Imphal International Airport (IATA: IMF, ICAO: VEI) is the third largest airport in Manipur, which is located to south and 8 kilometer away from the city centre. Bangalore, Delhi, Kolkata, and Mandalay are the major destination served by this airport.
Local Transportation To & From Imphal Airport
The city airport has good transportation facilities such as auto rickshaws, public and private buses. Visitors can also hire a cab, but the fares might be on higher side.
Popular Airline Routes
Imphal Airport AddressImphal International Airport
NH 150,
Imphal,
Manipur 795140
Ph: 0385 245 5138
Scroll