Cheap Flights to Guwahati Airport
Flights to Guwahati
Rehlat – one of the fastest growing travel websites in the Middle East offers best deals on Guwahati flights including one-way or round trip. Guwahati, the capital city of Assam, India welcomes tourists year round with its natural beauty and calm atmosphere. We also provide daily schedules & information on non-stop flights to Guwahati. Choose from the best selection of low cost flights to Guwahati from all around the world. Find great discounts on airfares and save big on Guwahati flight bookings.
Things to Do & Popular Places Guwahati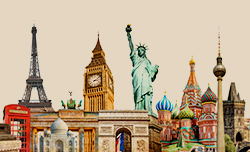 Incredible Places to Visit in Guwahati
If you need to spend a wonderful vacation in the wilderness, listening to the whispers of wind, hearing the chirping of birds, and set the clock back to let your mind race to the past, you need to visit Guwahati. There are several attractions in Guwahati. They are: Kaziranga National Park, Kamakhya Temple, Pobitora Wildlife Sanctuary, Saraighat Bridge, Brahmaputra River, and Assam Rajyik State Museum.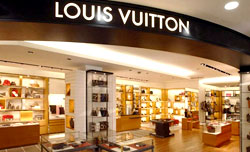 Best Shopping Malls
Guwahati boasts of lavish and trendy shopping malls, shopping centers and street markets. The city is popular for silk sarees, handicrafts, tribal arts, bamboo fashion accessories and traditional thread cloths. The Hub Mall, Sohum Shoppe, Westside and Shop Guwahati are well-known shopping malls in Guwahati.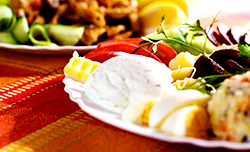 Food and Dining in Guwahati
If you are looking to grab a quick bite, along the roadside Guwahati is one such place worth visiting. Dishes that are famous in Guwahati are: Khar, masor tenga, puthi maas and pura maas mankho. And it will be a stunning experience to enjoy vibrant nightlife in Guwahati throughout the year.
Transportation in Guwahati
There are various modes of local transportation like taxi, train, buses and auto rickshaws to get around the city. It is easy and quick to find a taxi to travel across neighboring cities at reasonable cost.
Airport Information Guwahati
Lokpriya Gopinath Bordoloi International Airport is the major airport serving Guwahati, which operates domestic and international flights. It is located at Borjhar in Guwahati and is well known as the primary international airport of the north-eastern states of India.
Local Transportation To & From Guwahati Airport
Passengers can find number of local buses, taxis and trains to reach Guwahati from Lokpriya Gopinath Bordoloi International Airport. It will take around 40 minutes to travel 25 kilometers via NH37 and NH17/NH37. Visitors can also find another route via A K Deb Rd, which is about 40 minutes to travel 22 kilometers.
Popular Airline Routes
Guwahati Airport AddressLokpriya Gopinath Bordoloi International Airport Address
Borjhar,
Guwahati,
Assam 781015
Ph: 0361 284 1909
Scroll