Flights to Lemnos
>Plan a holiday in Lemnos and enjoy your leisure time near the coastline of Aegean Sea. Lemnos or Limnos is an island in Greece located in the northern part of the Aegean Sea. The island is filled with beautiful attractions and it attracts millions of tourists every year for its resorts, traditional cuisine, nightlife and world-class accommodation. Take a flight to Limnos on Rehlat at affordable fares. Rehlat is the fastest-growing online travel companies in the Middle East. Find the exciting deals, offers, and last-minute fares on Rehlat and make your booking through the simple booking process and enjoy your budget trip to Limnos.
Things to Do & Popular Places in Lemons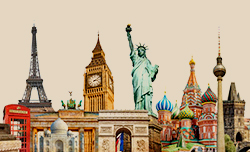 Don't Miss Byzantine Castle
Byzantine Castle is a must-visit attraction of Lemnos. It is an impressive castle of Myrina, a Byzantine fortification. The Venetians has reconstructed the castle in the 13th century. The island is rich in its natural beauty. Lemnos surprises every tourist with its awe-inspiring mountainous villages, deserted beaches and archaeological sites. The Island is a fantastic tourist spot to explore the top attractions such as Black Rock Dive Centre, Thanos Beach, Sand Dunes, Poliochni, Keros beach, Gomati beach, Megalo Fanaraki Beach, Ancient Theater, Riha Nera Beach, Archeological Site of Kaviria and Hephaistia. Also, you shouldn't miss to visit historical landmarks like Ancient Poliochni, Ancient Kavirio, and the legendary cave of Philoctetes.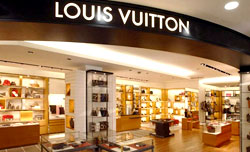 Best Shopping Malls
Lemnos has a number of shopping centers, outlets and street markets. It is the perfect place to purchase jewelry, ceramics, chic boutiques, handicrafts and craft shops. Most of the shops are lined up in the streets of Myrina and you can buy local specialties such as cheese, ouzo, honey, wine, and sweets, folk art shops that sell variety of fine woven fabrics in vivid colors, fine potteries, wooden carved objects embroideries and much more. You can also find same kind of shopping in villages of the island - Moudros and Platy.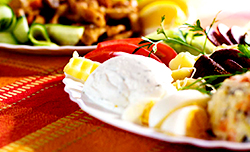 Food and Dining in Lemnos
Lemnos offers numerous traditional varieties of Greek cuisine. You can find tasty seafood and quality meats in all restaurants and hotels. Lemnos is abundant of seafood, fresh vegetables, wine and lamb. You should definitely taste the variety recipes of seafood, flomaria with rooster, and meat. Kalthaki Limnou is a variety of cheese made only in Limnos. The island is also famous for wines (Moshato Limnou, Limnia Gi, and Aroma Limnou). You can find the nightlife in island only at few taverns and few lounge bars. Also, you can find few cafeterias beachside which turns into lunge bars during the evening to enjoy the best views of the beach.
Transportation in Lemnos
Lemnos has sufficient good network of bus transportation. The buses are not so frequent in the city, so the tourists can take their own vehicle to travel in and around the city. Also, you can find motorbike and car rentals in the port of Myrina, and other tourist places. Taxis are the other alternative option to travel in and around the city. During summer, the city operates three times a day ferries from Myrina to the neighboring cities.
Airport Information Lemnos
Lemnos International Airport is primary airport serving Myrina, located on the south coast of the scenic Aegean island of Limnos. The airport operates both domestic and international flights to various European destinations. Lemnos International Airport has one passenger terminal. You can find numerous world-class amenities for passengers such as shops, services, restaurants, bars, ATMs, rest rooms, medical care and currency exchange.
Local Transportation To & From Lemnos Airport
You can choose any of transportation facilities like buses or cars to reach the airport. A number of taxis are available in the city or you can opt for rental cars to reach the airport. The city operates a number of city buses regularly to reach the airport.
Popular Airline Routes
Lemnos Airport AddressLemnos International Airport,
Limnos 814 01,
Greece,
Ph: +354 425 6000
Scroll