Cheap Flights to Westerland
Westerland Flights
Take a trip to Westerland, a seaside resort, located in the Sylt region, Germany. Long promenade beach of the city has everything for its visitors. Conversely, the city is having numerous historic buildings with great architectural values, noteworthy sculptures, churches, and many more spa centres. Find the exclusive Westerland flight deals on Rehlat and experience the world-class service on leading international airlines. Rehlat is Middle East's fastest-growing online travel companies offering affordable flights to everyone. Sign up for the Rehlat newsletter and get updates on latest deals, special fares, and discounts on Westerland flights. Experience your first ever budget travel only with Rehlat.
Things to Do & Popular Places in Westerland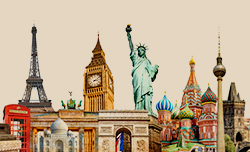 Don't Miss Westerland Attractions
Westerland is a home for the popular historic buildings, stunning beaches, and ethnic attractions. 25 miles of finest white sandy beaches, unspoilt dunes and green dykes will charm you to Westerland in Sylt. Few must visit places, all of them different and each holding its own individual charm are: Kampen, Wenningstedt-Braderup, Munkmarsch, Tinnum, and much more. There is a diverse range of leisure activities in the city, whether indoors or outside, relaxed or active.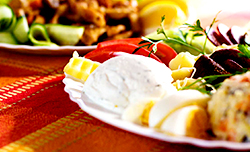 Food & Dining in Westerland
The German city is filled with cosy cafes and some of the best gourmet restaurant and cool clubs. Do not miss the following restaurants: Web Christel – the Sublime North German Kitchen, Gosch Schlemmer Eck – the Sea Food hub, Söl'ring Hof - Delicious delicatessen, Crêperie am Meer – The Beach Restaurant, and much more. Besides some cool pubs and bars, there are few really happening cafes. An invigorating espresso, a café crema and a delicious piece of cake? Or an iced coffee with cream? There is a vast range of delicious coffee and bakeries on offer in Westerland.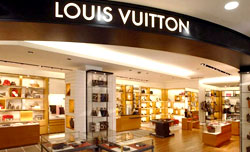 Shopping in Westerland
Westerland is filled with designer and branded fashion stores. There are few small nice shops and boutiques too. Elegant jewellery stores and designer boutiques will entice you. Tea, honey, and jam are some of the best souvenirs to carry back home as they are the best in the world. Must visit shopping places are: Hellner Moden GmbH & Co. KG, OUTBACK Sylt, Syltiges.de: Der offizielle Sylter Online-Shop, Inselkind, and much more.
Transportation in Westerland
Bus is the easiest means of travel, although bikes are also popular which costs around 40 Euros for a family to get around the island.
Westerland Airport Information
Sylt Airport (IATA: GWT, ICAO: EDXW) is a minor airport that serves Sylt Island. The airport is mainly used for summer seasonal scheduled traffic to major German cities. Presently the airport is served by four airlines namely Air Berlin, AIS Airlines, Lufthansa Regional (operated by Lufthansa CityLine), and Sylt Air. The airport building is well equipped with all passenger facilities.
Local Transportation To & From Westerland Airport
The island's airport is located 2 km east of Westerland. Shuttle buses run from the airport to the Central Bus Station (ZOB) of Westerland, which is located at the main station. There are several taxi companies on the island. From the airport to Westerland it takes about 6 minutes and costs around EUR 8-9.
Popular Airline Routes
Westerland Airport AddressSylt Airport,
Flughafenstr. 1,
25980 Sylt,
Germany
ph : +49 4651 920612
Scroll