Cheap Flights to Rostock-Laage
Rostock-Laage Flights
Rostock is located on the banks of the Warnow River and the coast of Baltic Sea in Germany. It is a home for oldest universities in the world and many industries. The city is filled with number of tourist attractions and seaside resorts. Find the low-cost flights on Rehlat and experience your first time ever budget trip with Rehlat. Rehlat is Middle East's fastest-growing online travel company offering flights at competitive fares. Check your Rostock flight schedule from your destination and experience the premium hospitality on leading international airlines. Rehlat also provides comprehensive information of airline you travel.
Things to Do & Popular Places in Rostock-Laage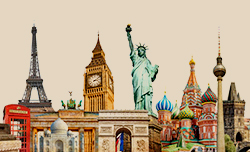 Don't Miss Warnemünde Lighthouse
Being a primitive place, Rostock has a number of historical and archaeological wonders. Warnemünde Lighthouse is a lighthouse located on the estuary of the Warnow River in Warnemünde. One must not miss to visit Rostock's tourist attractions such as Neuer Markt (New Market Square), Kerkhofhaus, St. Mary's Church, Kröpeliner Straße, Rostock University, Kloster St Katharinen (Convent of St. Catherine), Nikolaikirche, Warnemünde, Rostock Art Gallery, Museum of Cultural History, Stasi Museum, Warnemünde Local History Museum, Rostock Zoo, Walter Kempowski Archive, and Shipbuilding & Shipping Museum.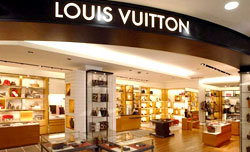 Best Shopping Malls
Those who are looking for hustle bustle shopping, must stroll through streets. You can find great shopping in the streets of old town. It is filled with a number of shops, small cafes, and cosy ateliers ideal for a relaxing and spending time. Ostsee Park Rostock, Rostock Fish Market Fischbratkuche, and Fahrradhandlung Duhring are the few of its popular shopping centers to everything under one roof. Don't miss to buy home-made chocolate and truffles at Schokoladerie de Prie.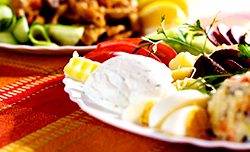 Food and Dining in Rostock-Laage
It has a number of family restaurants, cafés, and cozy bars. As Rostock is a typical seaport, seafood lovers will enjoy the plentitude varieties of dishes. Retreat yourself with the range of international cuisines offered in the city. Majorly, the restaurants serve grilled food. Visitors with kids will be served with special menus. You can taste dainty meat dishes along with fresh salads will offer you great dining. Also, some restaurants offers best complimentary wines along with ordered meals. The city has a lot of clubs, bar and pubs.
Transportation in Rostock-Laage
The city offers good inner-city transportation system with trams, buses, S-Bahn, and ferries. Rostock has a large ferry port which can handle the highest number of cruise tourists.
Airport Information Rostock-Laage
Rostock–Laage Airport (IATA: RLG, ICAO: ETNL) is a major airport of Mecklenburg-Vorpommern state, located 12 kilometres away from the city centre of Rostock. The city airport serves flights to both domestic and international destinations and has non-stop flights to 9 cities. Rostock–Laage Airport has one modern terminal building feature a large check-in hall, few shops, Wi-Fi, cash machine, restaurants and other necessary facilities.
Local Transportation To & From Rostock-Laage Airport
You can reach the Rostock-Laage Airport using public transportation, car, taxi, and hire cars. The number 127 regional bus route travels from central bus station to airport. You can buy the bus ticket directly from the driver. Airport offers myDriver airport transfer service. You can take taxis from your location or cars can be rented to reach the airport.
Popular Airline Routes
Rostock-Laage Airport AddressRostock–Laage Airport,
Flughafenstraße 1,
18299 Laage,
Germany
Ph: +49 38454 321390
Scroll