Flights to Moorea
Moorea is a magical island located just 10 miles away from Tahiti. Moorea is one of the elegant islands in French Polynesia and it draws millions of tourists for its immaculate beauty. The island is easily accessible by plane or ferry. Get your Moorea flight booking done on Rehlat and experience the budget travel with its best deals, special fares, and discounts. Rehlat is the fastest-growing online travel company offering flight bookings as well as hotel bookings at amazing lowest fares. Enjoy the memorable trip only with Rehlat.

Things to Do & Popular Places in Moorea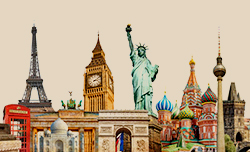 Don't Miss Moorea Attractions
Moorea is surrounded by vertical mountains, gleaming sands, and sparkling waters. It is a best getaway to witness the vibrant mixture of French Polynesia cultures and traditions. Tourists can enjoy mesmerizing sightseeing places and notable landmarks that include Lagoonarium, Magic Mountain, Albert's Transport, Temae Beach, Tiki Village Cultural Centre, Toatea Lookout, Moorea Dolphin Center, Moorea Tropical Garden, Ta'ahiamanu Beach, and much more. Its unique landscape gives best experiences for adventure and activity on both water and land.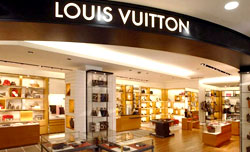 Best Shopping Malls
Visitors can find plenty of local markets, small shops, and souvenir shops. You shouldn't miss to buy local products like black pearl, jewelry, handicrafts, and arts. Only few banks are available in the city to change the currency. Tourists can change their currency at hotels also at a lower rate. You can find established shops to purchase black pearls at lower fares. There are many small markets available within the island selling clothing, bedding, and selection of hardware.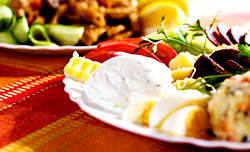 Food and Dining in Moorea
It will be a unique experience to taste the immense variety of French Polynesian cuisines including grilled kebabs, Polynesian meatballs, Fish, pork, chicken, and vegetables. Make sure to plan your meals accordingly since most of the restaurants close in early afternoon until evening. You can taste delicious food from food trucks (roulettes). Every hotel in Moorea has its bar, but drinking in hotel may be expensive. So it is better to purchase some drinks and drink on the beach.



Transportation in Moorea
Moorea is a major city on the Island of French Polynesia, offering wide modes of transportation like buses, ferries, and taxis to get around the city. Moped rentals are available for a day. It may cost around $50 USD. Tourists can rent cars to explore the city.
Moorea Airport Information
Moorea Airport is a domestic airport, operating passenger scheduled services and seasonal charter flights from serving the city of Moorea. It is situated approximately 7.5 km (4.0 NM) northeast of Afareitu and 15 km (8.1 NM) west of the island of Tahiti. Moorea Airport is equipped with some of the best facilities for passengers including hotels, cafes, ATM's, communication, check-in counters, gates, car parking, and taxi hires.
Local Transportation To & From Moorea Airport
Car rentals and taxis are the main mode of transportation to reach the airport. Few hotels may offer airport shuttles to reach the airport.
Popular Airline Routes
Moorea Airport AddressMoorea Airport,
Moorea 98728,
French Polynesia
Ph: +689 40 55 06 00
Scroll