Cheap Flights to Toulouse
Toulouse Flights
Toulouse is a blend of heritage and art and filled with red-brick architectural structures. Toulouse is capital of the French department of Haute-Garonne and located on the banks of the River Garonne. It is a great getaway to begin journey back to the time of medieval era. For its special glow, Toulouse called as "La Ville Rose" and it attracts millions of tourists for its warm and sunny climate. Find the low-cost flights on Rehlat and book a trip to Toulouse. Take the advantage of Rehlat's latest offers and last-minute fares and avail the budget trip to Toulouse.
Things to Do & Popular Places in Toulouse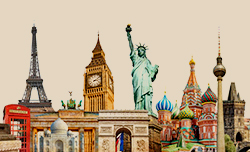 Don't Miss Basilique Saint-Sernin
Toulouse has plenty of architectural landmarks and tourist attractions. The rosy-toned brick buildings are the unique specialty of the city. Basilique Saint-Sernin is one of the magnificent churches from medieval. The must-visit attractions of the city include Couvent des Jacobins, Place du Capitole, Musée des Augustins: Fine Arts Museum, Fondation Bemberg, Hôtel d'Assézat, Musée Saint-Raymond: Archaeology Museum, Cathédrale Saint-Etienne, Les Abattoirs: Museum of Modern Art, Musée Paul-Dupuy: Decorative Arts and Graphic Arts, and much more.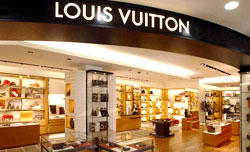 Best Shopping Malls
Toulouse is a major destination for shopping lovers you can find a number of shopping malls, outlets, shopping centers, and local markets. Purchase from the range of one-off items, perfumes, unique body products, local handicrafts, jewelry and much more. Rue Saint Rome is the popular shopping street in the city where you can find chic boutiques, exclusive labels, and attractive fashion accessories. Regular shopping hours in Toulouse are Monday to Saturday from 9 AM to 6 PM. Small outlets mostly closes on Mondays and Wednesday between 12 PM to 2 PM.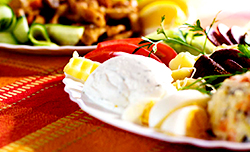 Food and Dining in Toulouse
The gastronomy of Toulouse is full of flavors, creativity, and uniqueness. Immerse yourself in the tremendous taste of toulousain cuisine. Find all kind of cuisine can be found in Toulouse. Midi-Pyrénées is boasts 19 Michelin-starred chefs. You shouldn't miss to taste the famous French cuisine that includes garbure, cassoulet, foie gras, toulouse sausage, foie gras, and croquants. Your Toulouse trip will be incomplete without tasting the varieties of duck and goose.
Transportation in Toulouse
Metro, buses, tramway lines are the major means of transportation in Toulouse. City has two metro lines (A line and B line) which operate daily from 5:15 AM to 12 AM, while from 5:15 AM to 3 AM on Fridays and on Saturdays. You can see more than 80 bus lines in the city. You can book taxis and hire cars to travel in and around the city.
Airport Information Toulouse
Toulouse–Blagnac Airport is an international airport, located approximately 6.6 kilometers from west northwest of Toulouse. A number of airlines are operating from the airport serving millions of passengers annually. Toulouse–Blagnac Airport features 1 large terminal named as the Passenger Terminal. Passenger Terminal is equipped with number of facilities like ATMs, currency exchange, communication, restaurants, bars, shopping outlets, cafes, check-in gates, VIP lounge, Wi-Fi and much more.
Local Transportation To & From Toulouse Airport
Toulouse offers a numerous transportation options to reach the airport. You can opt for any of option such as airport shuttle, bus, train, coach service, car rentals, tram, and taxi to reach the airport. Airport shuttle service runs from 5 AM to 12.15 AM for every 20 minutes. It takes 20 minutes to reach airport or city centre. Bus number 25, 30, 66, 88 runs from different parts of the city to airport. Airport coach service is available from airport to Andorra. Taxi ranks are located on the ground level.
Popular Airline Routes
Toulouse Airport Address31703 Blagnac,
France
Ph: +33 825 38 00 00
Scroll