Toulon Flights
Toulon is a typical Mediterranean port city and welcomes millions of tourists to explore the elegance of city. The city boasts sea shores, picturesque of small fishing villages and much more. It is the capital city of the Var department in France. Toulon is located in the Provence-Alpes-Côte-d'Azur region. Find the low-cost flights on Rehlat and experience your first time ever budget trip with Rehlat. Rehlat is Middle East's fastest-growing online travel company offering flights at competitive fares. Check your Toulon flight schedule from your destination and experience the best-in class service on leading international airlines. Rehlat also provides comprehensive information of airline you travel.
Things to Do & Popular Places in Toulon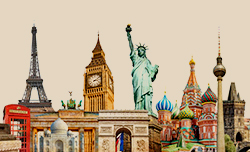 Don't Miss Toulon Attractions
Rediscover the beauty of Toulon and enjoy a wide variety of family activities in the city. Toulon has numerous tourist attractions including Vieille Ville (Old Town), Toulon Port, Mont Faron, Musée Mémorial du Débarquement (Landing Museum), Opéra de Toulon, Musée de la Marine (Naval Museum), Traditional Markets, Cathédrale Sainte-Marie-de-la-Seds, Festival de Musique (Classical Music Festival), Jazz à Toulon, and Le Lavandou. It is the perfect gateway for a full day excursion along-side long walk towards palm-fringed waterfront and colorful markets.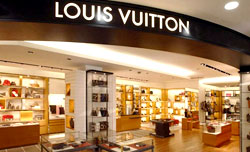 Best Shopping Malls
Shopping in Toulon is delight for every visitor. You can find wide range of modern shopping outlets, malls as well as numerous boutiques, and souvenir shops. It is easy to find good number of local markets available all across the city, to purchase plenty of local products. Le Mourillon, Place Puget-Rue Hoche, Marina, La Fiancee du Pirate, RCT store, Noush, Centre Mayol, and Les Olivades are the popular places to shop. Toulon's unique one-off items, accessories, and handcrafts worth a place in your baggage.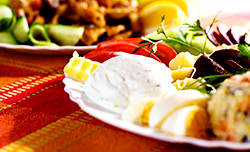 Food and Dining in Toulon
As fishing is one of the popular activities in Toulon, seafood based dishes are the basic varieties of the city. Apart from seafood varieties, Toulon is famous for wine as it has lot wine making regions. You shouldn't miss to taste wide range of delicious dishes that include fondue savoyarde, foie gras, choucroute garnie, daube de boeuf provencal, confit de canard, poulet basquaise, pain au chocolat, poulet /chicken provençal, and navarin d'agneau.
Transportation in Toulon
Toulon offers a wide range of transportation options. Tourist can travel in and around the city by trains, cars, buses, taxis, bicycles, boats, cable car and cars. Toulon is a compact city you explore the city by foot. Two 45-minute circuits Petit trains are available with an English and French commentary. It leaves from harbor to Toulon Tourist Office until central cruise ship terminal.   You can book taxi from any of Toulon's taxi ranks by phone. However, driving is not suitable for the city as it is congested with heavy traffic.
Airport Information Toulon
Toulon–Hyères Airport is a primary international airport, with its headquarters located at Hyères. It operates both domestic and international flights from Toulon throughout the year. It is located approximately 19 kilometres east of Toulon. Toulon–Hyères Airport carries millions of passengers every year. The airport has one terminal features all necessary facilities such as shopping, cafes, check-in gates, Wi-Fi, bars and restaurants, information desk and car parking.
Local Transportation To & From Toulon Airport
You can opt for any of transportation facility such as bus, train, rental car, or taxi to access airport. Direct shuttle bus service is available at the airport in accordance with flight times. Take Réseau Mistral line 63/line 67, and line 102 to reach the airport from city. There are 6 car hire companies are available at the airport. Taxi rank is located at outside the terminal at the arrival hall.
Toulon Airport Address
Toulon–Hyères Airport
Boulevard de la Marine
83400 Hyères
France
Ph: +33 825 01 83 87
Scroll