Cheap Flights to Strasbourg
Strasbourg Flights
Book your flight to Strasbourg, a city with magnificent world renowned heritage sites. It is quite famous for its several monuments and cultural attractions. Bordered by the Rhine River on one side, the city is home to a historic section of buildings and canals. Book your Strasbourg flights with Rehlat and save big on your flight bookings. You can search for one way and round trip Strasbourg flight tickets with Rehlat and save huge on every booking.
Things to Do & Popular Places in Strasbourg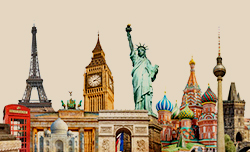 Don't Miss Strasbourg Attractions
With the tiny rivers and narrow alleys, extraordinarily varied architecture and the poetry which emerges from the magnificent historical centre, the Alsatian capital is simply delightful. A rich cuisine, a plentiful cultural life and a crossroads position in the heart of Europe are also important parts of this city. Both in winter and summer, Strasbourg, which is classified as a world heritage site by the United Nations, is one of France's most attractive and romantic destinations. The historical centre, surrounded by the charming river Ill, is the real marvel of Strasbourg.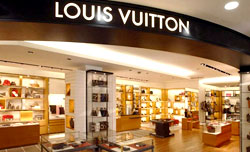 Best Shopping Malls
Luxury brands and fancy accessories abound, as in any French city, but where Strasbourg's shopping really shines is in local products. Local wine is a must for any visitor, but also foie gras, liqueurs, kougelhopfs, macaroons, gingerbread and many other traditional biscuits. Superb food shops are one of the attractions, from supermarkets to fascinating stores crammed with French specialties.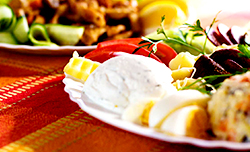 Food and Dining in Strasbourg
In French, Strasbourg means wine, beer, baeckeofe (a mixed meat dish with potatoes), flamenküche (a thin pie made up of onions, cheese and lardons) and, of course, choucroute (a generous dish consisting of cabbage, meat, sausages and potatoes). Leaving Strasbourg before tasting some of these typical dishes, which can be found in most of restaurants, would be a real crime! Wine and beers are parts of Strasbourg's identity. Whatever you like, you should find what you are looking for in the numerous and hearty bars, in the centre or closer to the wharves.
Transportation in Strasbourg
Tram is the most popular, most effective and by all means the most comfortable way of transport in Strasbourg. However, a perfect way to discover Strasbourg is to rent a bicycle and enjoy the sightseeing. There are few bicycle rentals in Strasbourg. Visitors can also book cabs for quick and easy journey.
Airport Information Strasbourg
Strasbourg International Airport is a major international airport, located in Entzheim, 10 km (6.2 miles) west-southwest of Strasbourg. It serves domestic and international flights with all the leading airlines; the airport carries million's of passengers from all across European cities year-around. Strasbourg International Airport holds 1 terminal named as Passenger Terminal.
Local Transportation To & From Strasbourg Airport
Strasbourg offers wide mode of options like buses, trains, taxis, to reach airport from the city and neighborhood regions. It will take around 25 minutes to reach the city centre from Strasbourg International Airport, which is just 16.6 kilometres via A35.
Popular Airline Routes
Strasbourg Airport AddressStrasbourg International Airport,
Route de l'Aéroport - RD221,
67960Entzheim,
France
Phone: +33 3 88 64 67 67
Scroll