Quimper Flights
Plan a trip to Quimper, the capital of the Finistère department in Brittany. The city is located in the north-west of France. It's considered to be the cultural heart of Brittany, and the city of art and history, as it sports a vast cultural and historical background. You can walk through the city and visit the stunning buildings located in Quimper or visit a local park, for a fun-filled holiday! Book with Rehlat and get astonishing deals and cash back offers on your flight bookings. Avail the amazing offers and last minute deals on Quimper flight bookings.
Things to Do & Popular Places in Quimper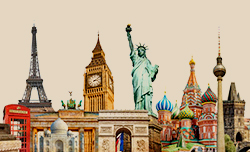 Don't Miss Quimper Attractions
Quimper is the capital of the Finistere region of Brittany, and is known for its pottery production, which dates from the 17th century. Take in the unique feel of Quimper with a stroll through the city, which has many quaint footbridges passing over the rivers that run through, including the picturesque River Odet. With a wealth of historical buildings, many timber framed houses and a wonderfully mild climate, Quimper is a fantastic destination for your French self-catering holiday. The major attractions of Quimper are: Cathedrale St-Corentin, Cidrerie Manoir du Kinkiz, Musee des Beaux Arts, Odet River, Fromagerie Leost, Parc et Jardin du Chateau de Lanniron and Maison du patrimoine.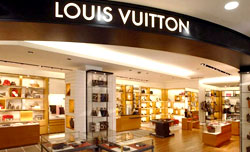 Best Shopping Malls
Quimper is the main commercial centre of Cornouaille. Quimper is recognized for its bright, hand-painted motifs, often Breton figures, fruits, and flowers. One of the most popular designs is a male Breton or female Bretonne in traditional costume. The best shopping streets are rue Kéréon and rue du Parc, where visitors will find Breton products including pottery, dolls and puppets, clothing made from regional cloth and wool, jewelry, lace, and beautiful Breton costumes.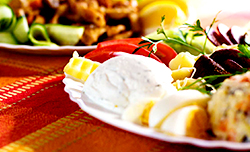 Food and Dining in Quimper
Along with the regional food varieties, visitors can also find various world famous cuisines in Quimper. Street food is also popular in the city. Vienna's club scene is all about parties with music of the highest quality. The nightlife of the city is rich and varied, with an abundance of lively bars and nightclubs. There are several bars and nightclubs in Quimper.
Transportation in Quimper
 Quimper consists of the best transport system, which will allow visitors to explore the city comfortably. There are many public transit options in the city including, metro rail, commuter rail, trolleys, and buses.

Quimper provides world class access for visitors like buses, taxis, trams, and trains to get around the city and all across the major cities in France. It will take 13 minutes to reach the Quimper–Cornouaille Airport from the city centre, which is about 12 kilometres via D785.
Airport Information Quimper
Quimper–Cornouaille Airport is a major international airport, which operates scheduled passenger services and international flights around the year. It is located Pluguffan and 5.5 km southwest of Quimper in the Brittany region of France. The airport serves thousand's of domestic and international passengers from all the notable cities of Europe. Quimper–Cornouaille Airport holds only one terminal and is named as passenger terminal.
Local Transportation To & From Quimper Airport
There are several public transportation facilities to reach airport from the city or to reach city from the airport. The cheapest choice to get down to the city center is cab. Travelers can also get through buses, rental cars and taxis. Large numbers of taxis are available outside the terminal; the fares are based on meters. Cars and taxis are also very frequent and come in reasonable fares.

Popular Airline Routes
Quimper Airport AddressQuimper–Cornouaille Airport,
29700 Pluguffan,
France
Ph:+33 2 98 94 30 30
Scroll