Cheap Flights to Poitiers
Poitiers Flights
Poitiers, a historic town in south-west France, is simply dripping with memories of hard fought battles and the pomp and ceremony of French royalty. Today Poitiers is rather less turbulent but with a charm and tourist attractions that makes it one of the loveliest towns in the Poitou-Charentes. Book your flight tickets at Rehlat and get amazing discounts and offers on your flight bookings. Search for one way and round trip flights to Poitiers and book the cheapest flight tickets only on Rehlat.
Things to Do & Popular Places in Poitiers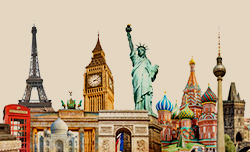 Don't Miss Poitiers Attractions
Poitiers is a town to stroll around at leisure. From tree-lined Place Mar Leclerc that is filled with cafés in the summer (at Christmas it becomes an ice-skating ring) meander through cobbled, pedestrianized streets flanked by a mix of centuries-old architecture and half-timbered houses, many of which have been transformed into lovely little boutique shops. The city offers many famous historical sites like the magnificent Romanesque church Notre-dame-la-Grande that has become the cities landmark and the impressive Cathédrale Saint-pierre. If you would like to visit a more modern attraction, head to Futuroscope, a technological theme park that is an entertaining option for any age.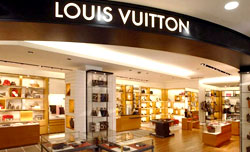 Best Shopping Malls
No trip to Poitiers is complete without a visit to the local arts and crafts shops. Start at the picturesque Grand Rue and its ample assortment of traditional shops, and continue down Rue des Cordeliers, a true shopper's paradise. You can find a endless selection of national and international shops, comprehending bakeries, clothes retail shops, and Centre Commercial Cordelier. You will find something for everyone!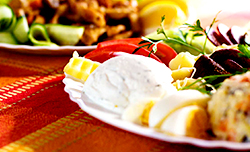 Food and Dining in Poitiers
Poitiers' cuisine is marked by hearty dishes with tasty sauces. There are several delicious and mouth-watering French food specialties. Goat cheese, lamb, freshwater fish and, of course, escargot, can be found in the menus of the local restaurants. A visit to Poitiers will naturally not be complete without a glass of fine regional wine, such as the Gamay. Poitiers has a great choice of venues for a night out. Techno or electronic music, hits from the 1980's or cabaret nights - this city offers something for any sort of party animals. The atmosphere is often young and lively, partly due to the young crowd that lives here because of Poitiers' university.
Transportation in Poitiers
Poitiers is well connected to all major cities of France with world class transportation like buses, taxis, city trains, trams, subways and many more.
The city is most comfortably accessed on the TGV Atlantique high-speed train, with a station in the city centre and another at the Futuroscope park. Located just few kilometers from Paris, Bordeaux and Lille, Poitiers is within easy reach for visitors and holiday-makers.
Airport Information Poitiers
Poitiers–Biard Airport is a major international airport, which operates domestic and international flights, as well as seasonal charter flights throughout the year. It is located at Biard, just 2.4 kilometres (1.5 mi) from west of Poitiers in the Vienne department of the Poitou-Charentes region in France. Poitiers–Biard Airport features with a single terminal named as Passenger Terminal.
Local Transportation To & From Poitiers Airport
Poitiers-Biard airport offers regular links to the major national and European destinations. A direct link to England offers several flights per week to London. Cars can be rented from the car rental service desk in the terminal. It will take around 15 minutes to reach the Poitiers-Biard Airport from the city centre, which is about 5.9 kilometers via Rue Georges Guynemer.
Popular Airline Routes
Poitiers Airport AddressPoitiers–Biard Airport,
5 Rue du Sous-Lieutenant Collart,
86580 Biard,
France,
Ph:+33 5 49 30 04 40
Scroll