Dinard Flights
Take a flight to Dinard – the city with its stripy beach tents and Belle Époque villas will surely make you remember the history of 19th century. Dinard, set on the dramatic coastline of Brittany in northern France, has long been a fashionable destination for holidaying French urbanites. Book one way or round trip flights to Dinard at cheapest prices on Rehlat & enjoy the crystalline blue waters, white-sandy beaches, and luxurious seaside family resorts. Experience the hidden treasure of natural harbors and marine life with mesmerizing views of curved coastline over the Saint-Malo bay from Cap Fréhel point. Book with Rehlat and get more discounts on your Dinard flight bookings.
Things to Do & Popular Places in Dinard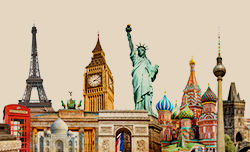 Don't Miss Dinard Attractions
Plan a vacation to expose an incredible holiday break in Saint Malo, which impress you with the richness of breathtaking sightseeing places and prestigious tourist attractions such as Les remparts de Saint-Malo, GR 34, Casino Barriere de Saint-Malo, Musee des Terre- Neuvas and Le Grand Be. Dinard has several beaches, which range from small coves to long expanses of sand. Besides the beautiful beaches of Ecluse, Prieuré, Saint-Énogat and Port Blanc, guests can take advantage of magnificent coastal walks, such as Promenade du Clair de Lune (Moonlight Walk), the Moulinet head point and the Malouine head point.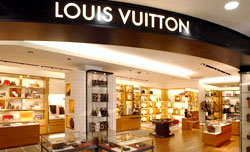 Best Shopping Malls
Dinard boasts of a wide range of shopping malls. Larger stores to little specialist shops sell everything from designer fashions fresh from the streets of Paris to leather wear such as belts and handbags, along with silk scarves, jewellery and perfumes. Most of the shops are located around the Place du Marché Halles and the Place de la République areas. Dinard has also consists of larger department stores and supermarkets, such as Auchan and Carrefour.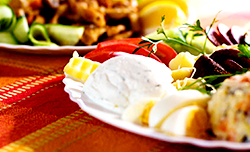 Food and Dining in Dinard
Visitors can enjoy a wide range of French regional dishes that includes Veau Braise A La Provencale Saumon Fume, Bruschetta De Flageolets, Soupe A L'oignon, Salade D' Epinards, Salade Nicoise, Crepe Au Fromage De Chevre, Salade De Canard and Crevettes A La Provencale. The restaurants serve fine French cuisine as well as fresh fish and seafood, which is a specialty on many restaurants' menus. If you want a light meal, the city has a good choice of creperies and fast food establishments.
Transportation in Dinard
Dinard is well equipped with world class transportation like buses, cars, trains, hire taxis, and ferries to get around the city. It will take approximate 20 minutes to reach the city from Dinard–Pleurtuit–Saint-Malo Airport, which is about 13.2 kilometers via D168.
Airport Information Dinard
Dinard - Pleurtuit - Saint-Malo Airport is a main airport, which serves domestic and international destinations throughout the year. It is located approximately 5 kilometres (3.1 mi) from south-southwest of Dinard in Pleurtuit. Dinard–Pleurtuit–Saint-Malo Airport features with one terminal named as Passenger Terminal, which is used for international, domestic, and seasonal charter flights from serving the city of Saint-Malo.
Local Transportation To & From Dinard Airport
Dinard offers several public transportation facilities such as train, cab, and bus to reach Dinard - Pleurtuit - Saint-Malo Airport. Visitors who want to reach the airport from the city can book a cab. Another possible option for bus transport is a shuttle operated by the hotels in the region of Dinard Airport.
Popular Airline Routes
Dinard Airport AddressDinard - Pleurtuit - Saint-Malo Airport
35730 Pleurtuit,
France,
Ph:+33 2 99 46 18 46
Scroll