Cheap Flights to Deauville
Deauville Flights
Book one way or round trip flight to Deauville, a city that exudes old-fashioned elegance with its luxury fashion brands, many art galleries, furniture and antique shops, and food shops. Spend some time walking along the promenade of Deauville's beautiful beach, bursting with the bright colors of the famous sun umbrellas.  The city is renowned for hosting a multitude of festivals throughout the year, on cinema, music, books, and sailing. Visitors can have a short walk alongside the curved coastline for relaxing, partying, or adventurous activities. Rehlat – one of the fastest travel companies in the Middle East offers cheapest flights to Deauville.
Things to Do & Popular Places in Deauville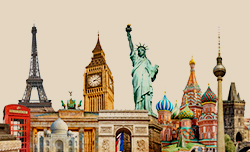 Don't Miss Deauville Attractions
Plan a vacation in Deauville to enjoy perfect gateway laced with the pleasant climate and spectacular atmosphere. The major attractions are: Deauville Beach, Hippodrome de Clairefontaine, Casino Barriere de Deauville, Thalasso Deauville Centre Algotherm, Petit Train de Deauville, Le Golf de l'Amiraute, Les Terrasses du Mini Golf and Deauville Tourisme.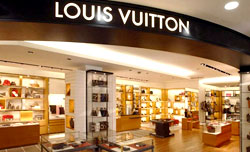 Best Shopping Malls in Deauville
Deauville is a great place for shopping lovers. Visitors can find several malls, outlets, branded outlets and street markets. You can shop accessories, couture clothes, leather handbags, gourmet food, and many more in Deauville. The best shopping malls in Deauville are: Normand lucien - Deauville, Thalasso Deauville Centre Algotherm, E-Leclerc and Centre laser, greffe capillaire, and Paris Deauville.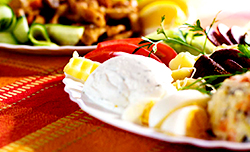 Food and Dining in Deauville
Visitors can enjoy world-class French cuisines in many restaurants and hotels in the city. Deauville offers delightful dishes with a mixture of excellent cuisines with splendid flavors. The menu features plenty of flavorful fish and meat classics with an exotic twist. The best restaurants in Deauville are Augusto, Brasserie La Cantine de Deauville, Le Spinnaker, La péniche, and Le Ciro's Barrière.
Transportation in Deauville
Deauville offers several modes of transportation facilities such as buses, trains, trams, taxis, and car hires to get around the city. It is well connected to all major cities in France. It will take around 15 minutes to reach the Deauville – Saint-Gatien Airport from the city centre, which is about 8.2 kilometers (13 minutes) via D74.
Airport Information Deauville
Deauville – Normandie Airport is previously known as Deauville – Saint-Gatien Airport and it is a small international airport situated 7 km east of Deauville. The airport consists of only one terminal named as a passenger terminal, which operates domestic and international flights to all European cities around the year.
Local Transportation To & From Deauville Airport
Deauville offers several public transportation facilities such as train, cab, and bus to reach Deauville – Normandie Airport. Guests can hire a cab to reach the airport from the city. Taxi services are available with all scheduled flight departures and arrivals.
Popular Airline Routes
Deauville Airport AddressDeauville airport,
IATA Code: DOL,
14130 Saint-Gatien-des-Bois,
France,
Ph: +33 2 31 65 65 65
Scroll