Cheap Flights to Chalons-en-Champagne
Chalons-en-Champagne Flights
Take flight to Châlons-en-Champagne, a famous destination in France combined with great history, culture, and nature. The city is an ideal destination to discover the amazing assets of the city. Book your flights to Châlons-en-Champagne and explore the city with great architecture, sightseeing places, and famous landmarks. Take the advantage of deals, special fares and offers on Rehlat, and fly the famous French city with more than 2000 years of history. Rehlat is the fastest growing online travel companies in the Middle East offering online flight bookings at affordable fares. Plan your itinerary to Châlons-en-Champagne with Rehlat's best airfares and experience the world-class services onboard at lower fares.


Things to Do & Popular Places in Chalons-en-Champagne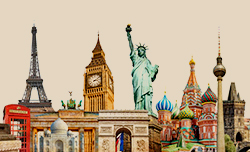 Don't Miss Notre-Dame-en-Vaux
When you visit Chalons-en-Champagne, you must not miss the Gothic architecture of Notre-Dame-en-Vaux, a Roman Catholic Church built in 12th and 13th century. The city has a number of recommended tourist places and historical monuments to visit including Cathedral of Saint Etienne, Church of Saint-Alpin, church of Saint John, Square du souvenir Français, Cathédrale Saint-Étienne de Châlons, Balades en Barque Chalons-en-Champagne, CPH La Grande Boutique du Vin, Centre d'Interpretation de Suippes, La Ferme aux Oiseaux Exotiques, and much more. Also, explore the beautiful views of well-tended parks and gardens.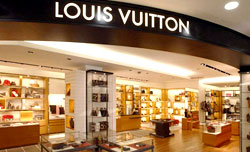 Best Shopping Malls
You can find plenty of malls, local street markets, outlets, and fashion boutiques. You can shop everything from clothing, books, accessories, crafts, arts, fruits, vegetables to leather goods in the various regions of Châlons-en-Champagne. Some of the popular shopping malls in the city include A Fleur De Pots, Union touristique les amis de la nature, Ideal shop, Esthetic Center, Shop Coiffure et Beauté, Galerie de l'Hotel de Ville, Bonobo and much more.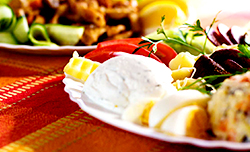 Food and Dining in Chalons-en-Champagne
Châlons-en-Champagne is a great place for visitors to eat different types of French cuisines in many traditional hotels and restaurants. Visitors can taste plenty of French typical dishes like Moules a la Creme, Saumon Fume, Bruschetta de Flageolets, Soupe a l'Oignon, Salade d' Epinards, Poulet a la Provencale, Carre d'Agneau and much more. You can find pubs and bars to relish the nightlife in the city.
Transportation in Châlons-en-Champagne
Châlons-en-Champagne is well connected to all notable cities in the country. The city offers plenty of transportation options including local buses, taxi, car, bicycle or car rentals, train, and tram to get in and around the city.
Airport Information Chalons-en-Champagne
Châlons Vatry Airport is an international airport that serving Châlons-en-Champagne city. It is located approximately 22 km from southeast of the city. The airport is unofficially called as Paris-Vatry airport. The airport operates domestic and season charter flights to all major cities in France and other European cities. Châlons Vatry Airport holds only one passenger terminal.
Passenger Terminal: It is well equipped with amenities such as car parking, children zone, communication, information counter, shops, hire taxi, luggage claim, and hotels.
Local Transportation to & from Chalons-en-Champagne Airport
The airport can be easily accessed from various regions of the city. You can opt for a regular airport shuttle, taxi, train or car to reach the Châlons Vatry Airport. The airport has direct access to the motorway network (A26 & A4).
Popular Airline Routes
Chalons-en-Champagne Airport AddressChâlons Vatry Airport
Rue Louis Blériot,
51320 Bussy-Lettrée,
France,
Ph: +33 3 26 64 82 00
Scroll