Cheap Flights to Copenhagen Airport
Flights to Copenhagen
Take a flight to Copenhagen, the capital of Denmark. The Danish capital is one of the greatest cities to explore in Europe with absolutely has some of the best attractions. Copenhagen is arguably most relaxed city in Scandinavia. Its friendly street life and unique café culture making visitors to explore the city again and again. Copenhagen is a perfect destination for travelers seeking leisure. Get your bookings and roam like local in Copenhagen at low cost with Rehlat – the leading online travel company in the Middle East. Rehlat's year-round deals and incredible low fares will obtain you cheap flight bookings to Copenhagen.
Things to Do & Popular Places in Copenhagen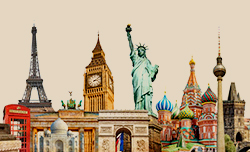 Don't Miss Tivoli Gardens
Copenhagen is packed with full of great attractions. Tourists shouldn't miss fun time at Tivoli Gardens – an amusement park in the Copenhagen city. Tivoli Gardens is a most popular amusement park in Scandinavia attracting more than 4 million visitors yearly. The other tourist attractions include the Little Mermaid, Amalienborg, Rosenborg Castle, Rundetaarn, Nyhavn, Frederik's Church, Ny Carlsberg Glyptotek, Kongens Nytorv, etc. History lovers can visit the National Museum of Denmark to know Danish history.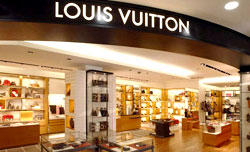 Best Shopping Malls
Copenhagen city has numerous malls, open flea markets, high-end fashion stores, and design stores. Experience a fantastic and eclectic mix of shopping in Copenhagen. Most of the stores close on weekdays around 6 PM and 2-4 PM on Saturdays. Some supermarkets remain open on Sundays. Most of the stores remain open on every day during peak sale periods. Flea markets can also be called as Loppemarked in Danish. Halmtorvet and Frederiksberg Loppemarked are the popular markets sells a wide selection of quality products.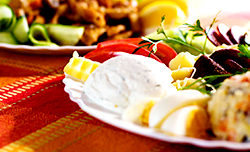 Food and Dining in Copenhagen
The food scene in the Copenhagen city is incredible. The city boasts of numerous Michelin-starred restaurants. Whatever be your preference, its cuisine will surely delight your palate with a range of new foods. Few popular restaurants of the city include Søllerød Kro, Geranium, Fischer, Microbrewer Mikkel Borg Bjergsø, Tartare at Manfreds, Restaurant Relae, Mirabelle, Bæst, Amass and much more.
Transportation in Copenhagen
Tourists can choose from a range of transportation options such as train, metro, bus, boat, bicycle, and taxi to explore the city. The Copenhagen Metro plies from Vanløse through the city centre to different parts of the city. The trains run automatically, without drivers. So the doors will automatically close at an interval. The city operates fairly extensive and efficient bus network. Tourists can explore many of city's attractions using boats. Exploring the city is more flexible and fastest using bicycles.
Airport Information Copenhagen
Copenhagen Airport, Kastrup (IATA: CPH, ICAO: EKCH) is located on the Amager Island, just 8 kilometers south of the city centre. Copenhagen Airport is one of the fastest-growing airports in Europe. Copenhagen Airport is the main hub for Norwegian Air Shuttle, Scandinavian Airlines, and Thomas Cook Airlines Scandinavia. The airport is able to handle more than 60 scheduled airlines. Copenhagen Airport is otherwise called as Kastrup Airport. The airport has two terminals – Terminal 2 and Terminal 3 equipped with all necessary facilities.
Local Transportation To & From Copenhagen Airport
Passengers can reach the airport by buses, trains, taxis, and metro. A number of bus lines ply between the airport and the center of Copenhagen. The metro station is located near the Terminal 3. The Metro runs for every 4-6 minutes during daytime while you can get metro for every 15-20 minutes during nighttime. A free terminal bus service is available to move between the terminals of the airport.
Copenhagen Airport AddressCopenhagen Airport
Airport Code: CPH
Lufthavnsboulevarden 6,
2770 Kastrup,
Denmark
Ph: +45 32 31 32 31
Scroll