Cheap Flights to Brussels
Flights to Brussels
Book your flight to Brussels - one of the most cosmopolitan cities in the world. Brussels is definitely a great cultural holiday destination. It is one of the wonderful cities whether you are looking forward to stay in this charming city for longer time or you are visiting on your holiday trip.
Book your Brussels flight tickets at Rehlat – One of the fastest growing online travel companies in the Middle East. Sign up now and get fantastic deals right away!
Things to Do & Popular Places in Brussels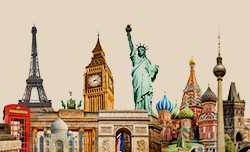 Don't Miss Brussels Attractions
The capital of Belgium, Brussels, is a fascinating place with stunning architecture and fascinating history packed into every street and alleyway. The beauty of Brussels lies in wandering its streets, looking in shops, taking in the views from the hilltops, and stopping in the cafés. The Grand Place, the main set-piece attractions are museum collections rather than buildings.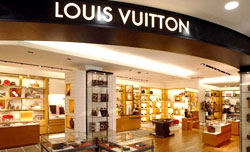 Best Shopping Malls
The shopping in Brussels is not limited to chocolates, beer, and lace. The city boasts of several shopping malls and boutiques. During Brussels vacation, visitors can sample the highest quality boutique shops and the most eclectic mix of goods at Brussels markets. There's no shortage of things to buy in Brussels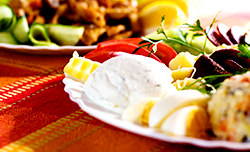 Food and Dining in Brussels
One of the highlights of visiting Brussels is its tasty cuisine. Brussels restaurants offer the best food in Europe, and there are strong influences from Italian and French cuisine. There are a few dishes that are typically Belgian, and you will frequently find these on the menu in Brussels. The nightlife in Brussels is relaxed and slightly quieter than other European cities. Lounge bars and clubs are the famous in Brussels, and there is a focus on DJs playing good music, comfortable seats, and good drinks.
Transportation in Brussels
It is very easy to transport around the capital city of Europe. There is a well-developed public transport system for pedestrians, and there are many boulevards for drivers. The city center itself is compact, so there are good walking trails to take when you are touring the city's main attractions.
Brussels Airport Information
Brussels Airport is an international airport in Brussels, the capital of Belgium. It is home to around 260 companies, together directly employing 20,000 people and serves as the home base for Brussels Airlines and TUIfly Belgium.
Local Transportation To & From Brussels Airport
Brussels airport is fairly close to the city center and compared to most airports around the world. The distance is 12 kilometers (7 miles) and the fastest traveling time is an 18-minute drive. There is a train from Brussels Zaventem Airport to Brussels Central Station for every 10 minutes. Brussels airport is located within the driving distance of all major and top cities in Belgium.
Brussels Airport AddressBrussels Airport
Airport Code: BRU
Leopoldlaan,
1930 Zaventem,
Belgium
Ph: +32 2 753 77 53
Scroll