Flights to Antwerp
Take a flight to Antwerp, a trending city where you can visit the traditional historic places and enjoy a night out at a club. The old city centre is steeped in history. You will find it in ancient building-fronts on narrow streets or in the imposing Grand-Place. The Plantin-Moretus Museum is the only museum in the world to be sorted out as a Unesco World Heritage site. In the shadow of the Cathedral of Our Lady, the city teems with life in intimate pubs and restaurants. The banks of the Scheldt are a great place for a breath of fresh air. If you want to save big on your flights to Antwerp, visit Rehlat and avail offers and cash back deals. Book now before the Antwerp flight deals end!

Things to Do & Popular Places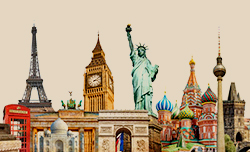 Don't Miss Antwerp Attractions
You encounter the whole world in this district of Antwerp – in the faces on the street and in shops, cafés, and restaurants. From chic to ordinary, from historical to modern: this district has it all. At its heart is the majestic Central Station. There are plentiful of historical buildings in the city, which are erected in different time periods. These buildings will definitely surprise with their art work and architecture. Diamond District is the home for a myriad of jewellery shops and diamond markets.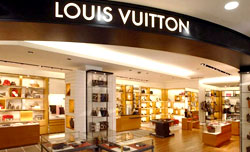 Best Shopping Malls
Antwerp is simply Amazing! Hip and historical, cool and classical, trendy and traditional. Everything is within walking distance. Enjoy a drink on one of the many terraces in the Eilandje district. Antwerp's city centre can be sub-categorized into seven different shopping areas, catering to everyone's tastes.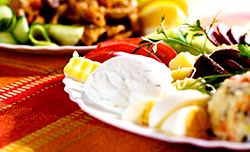 Food and Dining in Antwerp
There are numerous restaurants ranging from reasonable to expensive. "Smos" is the local delight, which is offered by most of the eateries. And there are few places in the city to enjoy the delicacies at any time of the day. Nightlife in the city never goes down. Countless pubs are sprawled in and around the city; it is having most pubs per capital in the world. As there is no closing hour to any pub, a visitor may enjoy the exuberant nightlife in the city. Live music, tasty cocktails, best wines, dance floors, and delicious food together turn your night into a heaven.
Transportation in Antwerp
De Lijn is the public transportation provider in the city. It operates buses, pre-metro, and trams to all the corners and surroundings of the city. If you are visiting in a car, then it is not a big problem to get through the city traffic and routes. However, visitors will be charged for parking. Taxis, bikes, and walking tours are the other means of transportation in the city.
Antwerp Airport Information
Antwerp International Airport is a small airport which is mostly used by few scheduled and charter flights. Right now the city airport is served by three airlines and has flights to domestic and international destinations; it also offers nonstop flight services to eight cities. Nearly 90 flights depart through this airport every week and 110,320 fly through this airport each year.
Local Transportation To & From Antwerp Airport
De Lijn provides public transportation in Antwerp, which runs plenty of buses to and from the airport. Taxis and cars are also available; fares are fixed and very expensive.
Popular Airline Routes
Antwerp Airport AddressAntwerp International Airport,
Luchthavenlei,B-2100
Antwerpen,
Belgium
Scroll