Cheap Flights to Yerevan Airport
Flights to Yerevan
Yerevan is the capital city of Armenia. The history of the city existed since 8th century BC and currently, it is blended with ancient and modern cultures. This city has witnessed many invasions, emperors, cultures and abject incidents, yet it is thriving as the capital and a home for the largest Armenian community in the world. It is the home for plenty of Soviet architectural testaments, colour stoned structures, large scale post–modern and modern marvels, and many more historical sites. Book your Yerevan flight tickets at Rehlat – One of the fastest growing online travel companies in the Middle East. Sign up now and get exciting deals right away!
Things to Do & Popular Places in Yerevan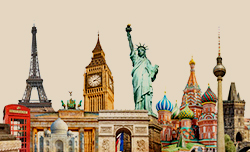 Don't Miss Yerevan Attractions
The city has numerous historical marvels such as, 3000 years old Erebuni Fortress, and many relics. The city is packed with many museums, churches, parks, and large avenues. Republic Square, Abovian street, Freedom (or Theatrical) Square, Mashtots avenue, Matenadaran, Covered Market Main Railway Station, Blue Mosque, Opera, Northern Avenue, and Cascades Sculpture Park are the historical places to visit in the city. Victory Park/Monument, Lover's Park, Children's Park, and Singing Fountains are the best parks in Yerevan. Conversely, it has numerous museums, churches, and historical sites. There are plentiful things to do in the city like visiting music concerts, operas, themes restaurants, walking tours, water world, and many more.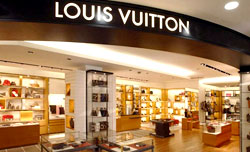 Best Shopping Malls
Yerevan is a home for finest rugs and carpets. There are many local carpet shops and branded stores like Tufenkian Carpets in the city. Yerevan is the home for world's finest beverages 'Armenian Brandy' and 'Armenian Vodka'. Conversely, visitors can find shopping malls with traditional and upscale fashion attire stores in all its districts.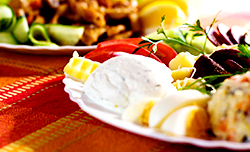 Food and Dining in Yerevan
Yerevan is the dining capital of the country. Visitors should not miss Lamehjun (Armanian style pizza), which is an authentic delight served in every restaurant. Along with the fast-food chains, there are numerous eateries with multi-continental delights. The capital city boasts lively nightlife. There are numerous bars, taverns, cafés, night clubs, and gathering parties that invite its visitors to a never ending nightlife. Armenian brandi, locally called as cognac, homemade fruit vodkas, and wine are must taste beverages in the city bars.

Transportation in Yerevan
Yerevan provides many transportation options to explore its historical heritage. Metro rails, mini bus services, buses, and trolleys are the public transit options to choose in the city. All these services are affordable and run in all the major areas. Cars and walking tours will allow you experience the best in the city.
Yerevan Airport Information
Zvartnots International Airport is the primary serving and the busiest airport in Armenia, which is located close to Zvartnots for about 12 kilometers west of the city Yerevan. The airport receives traffic of 1.5 million passengers annually. The city airport serves many international destinations in Russia, Ukraine, and Belarus and offers nonstop flight services to nearly 30 cities. There are no scheduled domestic flight services due to the small size of the country.
Local Transportation To & From Yerevan Airport
Taxis are the best means of transportation to travel to and from the airport. Self-driving is bit a difficult because of the bad conditions of roads. Public buses are available, but are not frequent. In every corner the terminal building you can find mini buses. The fares are inexpensive, costs around 200 AMD per single ride to the city center.
Popular Airline Routes
Yerevan Airport AddressZvartnots International Airport
IATA Code: EVN,
Yerevan,
Armenia
Phone: +374 10 493000
Scroll