Cheap Flights to Gyumri Airport
Flights to Gyumri
Gyumri, one of the oldest cities in the world, still hides mysteries and fascinating undiscovered values. There are many un-excavated archeological sites where evidence of early human history can be found. If you are looking for affordable flight tickets from Gyumri flights, look no further. Rehlat – One of the fastest growing online travel companies in the Middle East offers discounted rates & exclusive offers to many destinations. Choose from the best selection of low-cost flights to Gyumri from all around the world.
Things to Do & Popular Places in Gyumri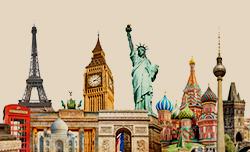 Don't Miss Gyumri Attractions
Gyumri is the city of masters. The craftsmen (stone masons, blacksmiths, jewelers, carpenters) express endless devotion towards their valuable skills, inherited from their ancestors. Gyumri is the city where you will feel the diversity of startling architectural style. It is one of the few Armenian cities where the spirit of 19th century is still alive. Black and red tufa buildings, sculptured frontons, old wooden doors and astounding downspouts will let you experience an unforgettable adventure and take away wonderful memories with you.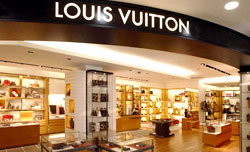 Best Shopping Malls
Before leaving the city, you should capture your very own piece of Gyumri. Gyumri's shops offer you a wide range of options. It can be a stunning painting, a nice magnet, embroidery, the symbol of Gyumri mushurba, pottery created by the masters of the city, a typical armenian drink or a tasty treat. Near the city square, you can find many souvenir shops. There you can also find the open market where farmers sell fresh and organic fruit and vegetables. These are the perfect shops for finding a gift for a friend or family or for something to take home with you and remind you of your amazing holiday in Gyumri.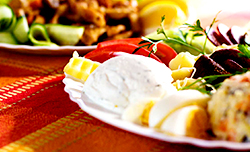 Food and Dining in Gyumri
Gyumri's traditional cuisine is famous for its soups, pilafs, meat dishes and desserts. Special dishes include tatar boraki, dolma,kufta,khazan barbeque. Armenian traditional khash is favourite dish of Gyumretsis. It has preserved its traditional cooking formula through centuries. It's a substantial soup of cows' feet and stomach with plenty of garlic, all sorts of pickled vegetables and vodka on top of everything.

Transportation in Gyumri
It is easy to explore in the city. The best ways to get around Gyumri's historic town are by foot, taxi or public transportation. If you plan on visiting the surrounding countryside, regional rail and cars are your best bets. Gyumri is an excellent place to take a walk at night in the summer, with warm nights, safe streets, and the ability to see the stars from the city. There are mini vans that run to Yerevan every day from 7:00AM-8:00 PM. There are no scheduled departures, but the 15 passenger mini vans depart when full.
Gyumri Airport Information

Shirak International Airport is the second largest airport in Armenia, which is located 5 kilometers away from the city center of Gyumri. The airport is served by only three airlines to Russian cities including Moscow, Rostov-on-Don, and Sochi; it is mainly used for diversion activities due to bad weather from the Zvartnots International Airport.

Local Transportation To & From Gyumri Airport

A traveler can hire a taxi or a rental car at the arrival terminal of the city airport. There are no shuttle services or public transportation available to and from the Shirak International Airport. Taxis are inexpensive within Gyumri; you will normally spend 500AMD per trip within the city and approximately 1000 AMD to the further sections. The taxis are easily found anywhere in the city.

Popular Airline Routes
Gyumri Airport AddressShirak International Airport,
IATA Code: LWN,
Gyumri,
Armenia
Phone: +374 10 493000
Scroll